Not boxed in by disability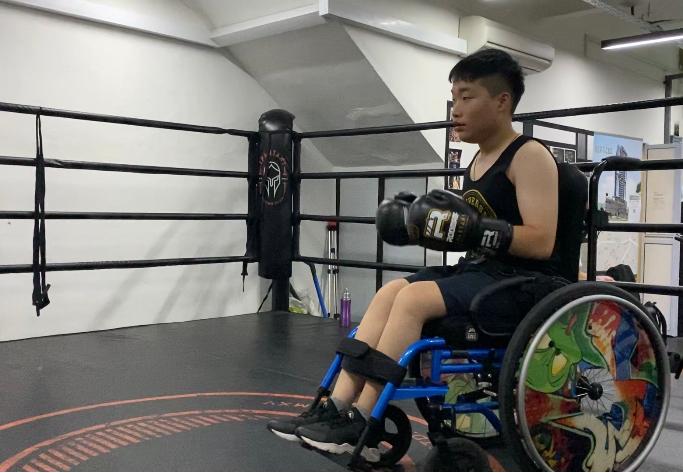 Not boxed in by disability
He swims and plays bocce. He has tried archery and horseriding. He has even given powerlifting a go. But the sport he loves best is boxing.
On his passion, 17-year-old Keith Tan says: "I have loved combat sports since young, so taking up boxing is natural for me. I find strength when I'm doing it, and it trains my mind to be sharper."
Indeed, strength may be an important attribute for most teenage boys but for Keith, a second-year student at the Institute of Technical Education (ITE) @ Simei, it is especially significant because he has spastic diplegia cerebral palsy.
A different childhood
He was diagnosed with the neurological condition when he was one.
"As a baby, I wasn't that active. I wasn't rolling around or crawling. I would just lie there. My aunt was the one who first noticed it. So, my mother went to the doctor to see if this was cause for concern. The doctor then told my mum that I have cerebral palsy."
The condition affects muscle control and coordination – it increases muscle tone such that a person's muscles become stiff, and reflexes are exaggerated. Motor or movement milestones tend to be delayed too. 
For Keith, this means that doing "even the simplest stuff" has been a challenge. He requires help for daily activities like bathing, getting dressed and visiting the toilet, and moves around in a wheelchair. 
"My movements, especially waist down, are restricted. I can't stand with both hands free. One hand has to be holding on to something for support. Speech is another thing. Sometimes my voice sounds strained because my muscles tense up."
To help him, Keith always has a domestic helper by his side, even when he goes to school. However, he shares that having an adult supervising his every move has put a dampener on making new friends.
"I can't be myself because there is always someone there. So, I am more guarded and that has contributed to my introverted nature. But I want to change that as I get older. I want to be more independent."
Ticked the right boxes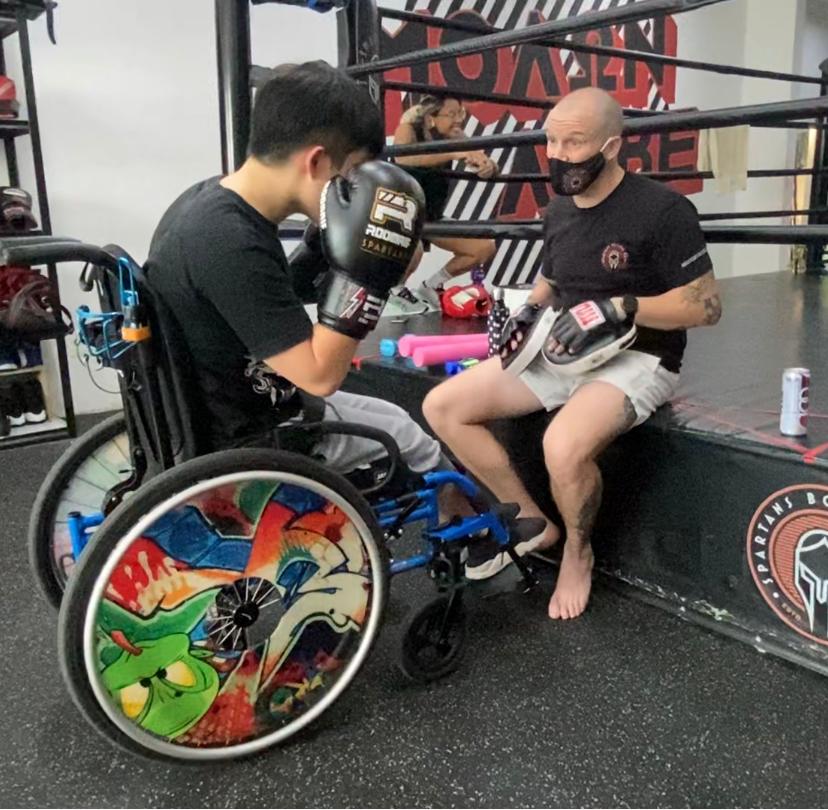 Keith having a post-session debrief with his boxing coach after his training.
In October 2019, Keith decided to take up boxing, a sport that had intrigued him for a long time.
In his search for a school that would take him in, Keith chanced upon the Spartans Boxing Club. He wrote in without much expectation, but was warmly welcomed by the owner and he soon started lessons.
However, as Keith progressed, he realised that his wheelchair was not ideal for the sport, and he needed a sturdier wheelchair that could move around better. This was tough for his single mum who works in F&B, as a new wheelchair could easily cost up to a five-figure sum.
With assistance from the Mediacorp Enable Fund, Keith was able to buy a customised wheelchair that can support him better as he spars and trains. The new wheelchair is also lighter, making it easier for Tan to manoeuvre as he goes about his daily activities.
For the aspiring programmer who intends to further his studies at a polytechnic after he graduates from ITE, boxing seems to be the sport that has ticked all the right boxes for him.
"This is something I can do for the long haul, and I am grateful to be able to receive help from MEF to buy a new wheelchair so that I can continue my passion."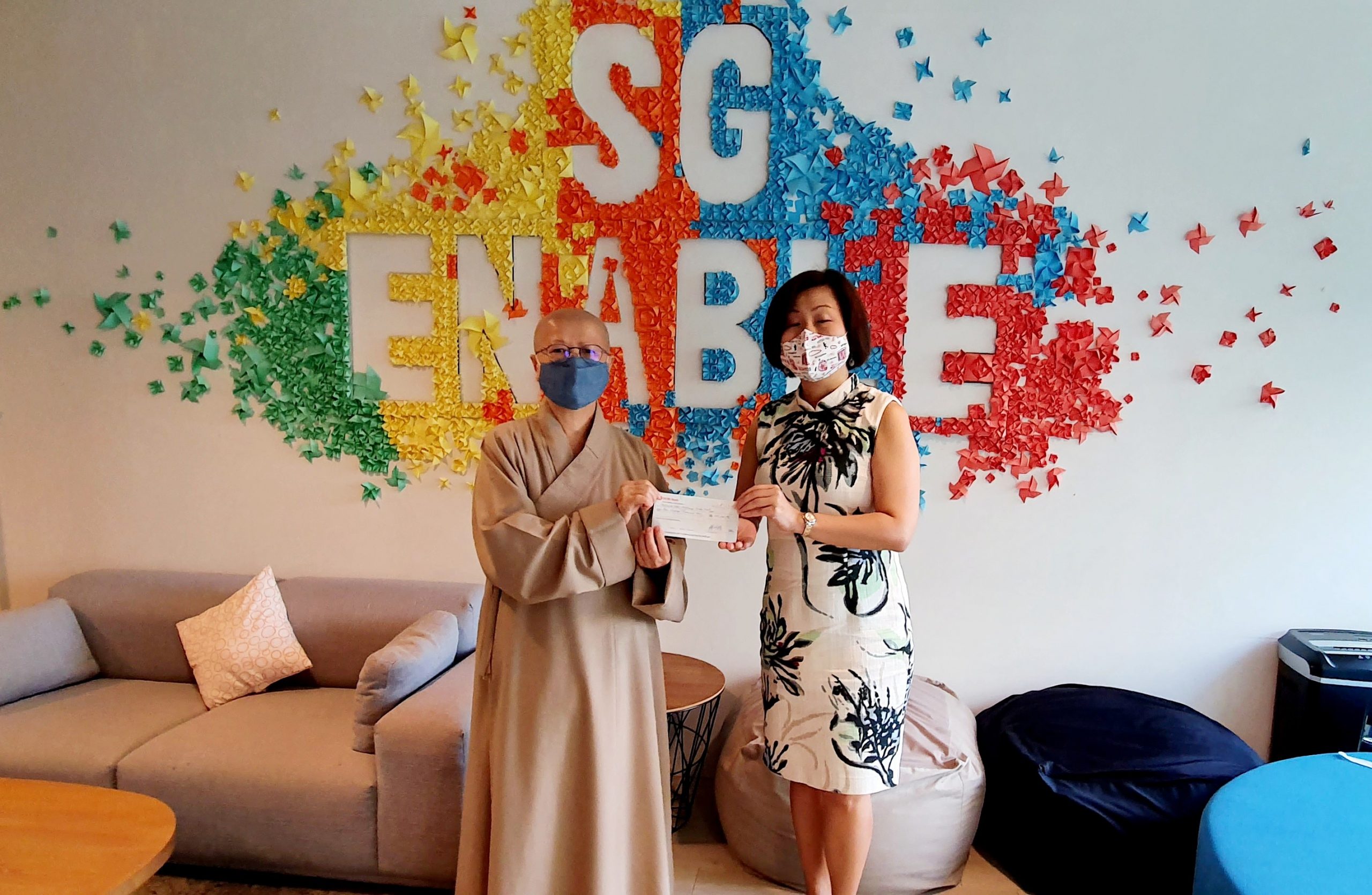 Venerable Sek Ming Woon, one of two executrices of the late Venerable Suit's estate, presenting a S$100,000 cheque to CEO of SG Enable, Ms Ku Geok Boon
The late Venerable Suit Woo Foong was a simple man. Born in China in 1921, he became a monk when he was just 12 and lived in monasteries until he passed away at the age of 97 in 2018.
In his final years, Venerable Suit lived in Singapore's oldest Buddhist monastery, the Lian Shan Shuang Lin Monastery.
Known to be compassionate and generous, he was dedicated throughout his life to the pursuit of the spiritual as well as the alleviation of sufferings of the physical world.
It came, then, as no surprise that he had bequeathed proceeds from the only asset he owned – a house in Telok Kurau – to several charities.
The Mediacorp Enable Fund (MEF) was one of these charities. It received S$100,000 in support of its work to build a society where persons with disabilities are recognised for their abilities and are enabled to lead full, socially integrated lives.
The donation from the estate of the late Venerable Suit will go towards funding three broad areas: Aspirations and Last Mile Needs, Transition to Work, and Community Support.
In the area of Aspirations and Last Mile Needs, individuals will be supported in skills development or with financial assistance, while organisations will be aided in the development of their talents. The Transition to Work scope provides customised training and employment programmes to smoothen transition at critical stages of life. Community Support is a three-pronged effort that supports initiatives to enhance the independence and integration of people with disabilities, offers support to caregivers, and fosters a network of Special Education (SPED) alumni so that they do not become isolated.
Said Ms Ku Geok Boon, CEO of SG Enable which administers MEF: "We are grateful for this kind donation from the estate of the late Venerable Suit Woo Foong. It is most timely as the impact of COVID-19 on persons with disabilities and their caregivers is showing to be disproportionately huge compared to other vulnerable groups. (Venerable Suit's) generosity will enable MEF to continue extending help and relief to persons with disabilities, and encourage them to keep their faith and stay positive, knowing that the community cares for them during these difficult times."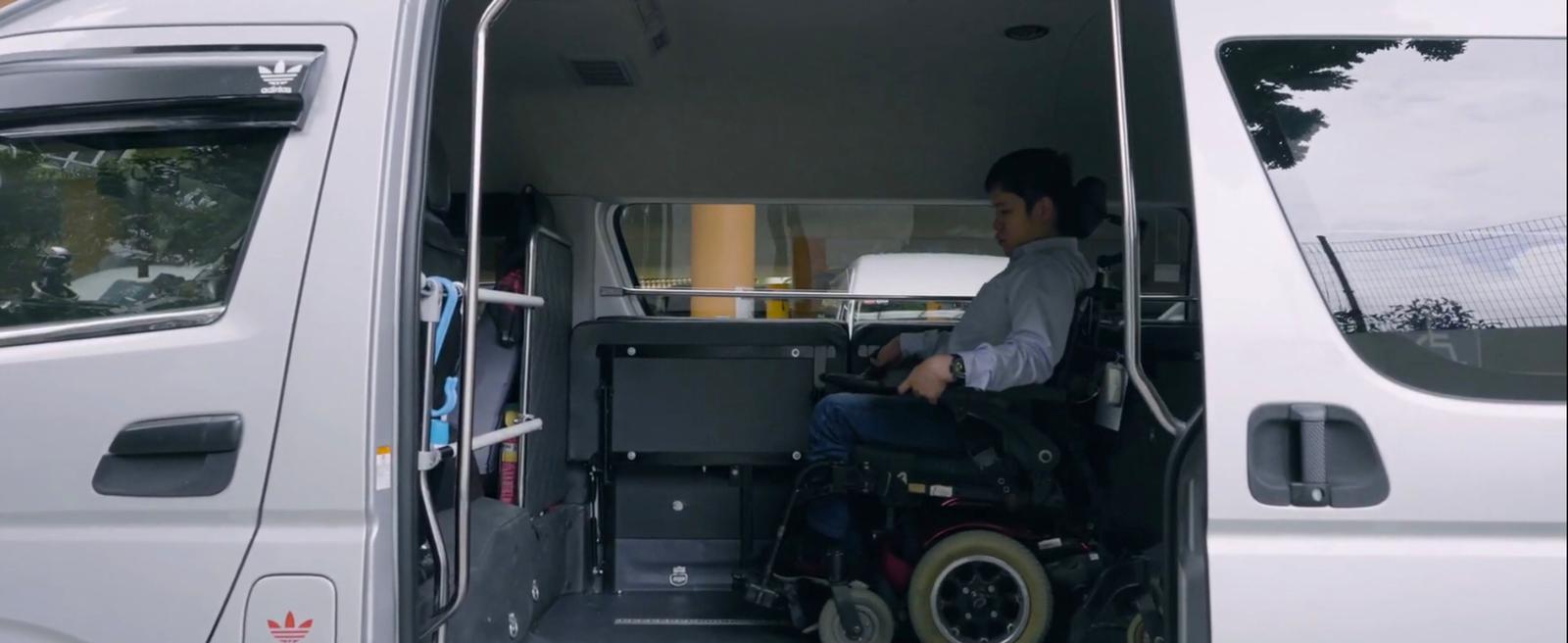 Alumni Neo Kah Whye on his way home in a hydraulic van after participating in the Hydro Weekly programme at CPAS.
New support for SPED schools for continued engagement with alumni
Once a person with disability graduates from a Special Education (SPED) school, he / she may be transitioned into the workforce through programmes like the School-to-Work Transition Programme that enhances the independence and integration of the graduate.  
However, such programmes currently do not include activities that help these graduates maintain the ties that they have built in school, as such bonding activities require extra resources that SPED schools do not have.
A need to support SPED school alumni networks
This is where the Mediacorp Enable Fund (MEF) comes in. MEF aims to build a society where persons with disabilities are recognised for their abilities and are enabled to lead full, socially integrated lives. SG Enable, an agency dedicated to enabling persons with disabilities, is MEF's administrator while Mediacorp is its official media partner.
In supporting SPED schools and their networks, the community-based fund has since expanded its aid to include support for the caregivers of persons with disabilities, as well as for programmes that look to foster a network of SPED alumni so they do not become isolated.
Specifically, the MEF will support SPED schools or their parent organisations under its SPED Alumni Engagement funding for outreach programmes that encourages continued engagement by the community with their alumni networks. 
On this, Ms Selina Heng, Manager of SG Enable said: "The relationships that these graduates have established in school are crucial to their overall development and it is important for them to continue to have a strong support network."
SPED Alumni Engagement Support's first recipient
In January 2021, MEF's Community Fund supported Cerebral Palsy Alliance Singapore (CPAS) with S$20,000 under its SPED Alumni Engagement funding. This will go to defraying their cost of running their Beyond Boundaries Club's weekly programmes, which include riding lessons, hydrotherapy, creative arts and music, digital art and flower design.
Ms Yurnita Bte Omar, Alumni Liaison Executive of Adult Services at CPAS said: "We are thankful to be the first recipient of MEF's SPED Alumni Engagement funding. This will assist with the cost of running our weeklactivities, through which we hope to bridge the gap between our alumni and the community. With the funding, we also hope to reach out to more high support and home-bound alumni."
Some 35 CPAS alumni, aged between 18 and 55, with moderate to severe physical or multiple disabilities will benefit from the funding this year.
How SPED schools can qualify for funding
SPED schools (or their parent organisations) hoping to get support for their alumni engagement initiatives can apply for the funding under two categories:
Ad-hoc events such as social recreational activities for alumni and families; and / or
Regular or structured programmes including learning and development programmes and self-improvement courses for alumni.
Applications that do not fall into these categories will be assessed on a case–by-case basis.
Schools can submit a proposal through their principal any time during the year but can only receive funding once every 12 months. Their proposal, complete with an application form, should map out key details such as when the activity will take place, its nature and objectives, the target number of participants as well as the budget.
Once funding has been given and the event or programme completed, a brief report of the entire proceeding needs to be submitted. Regular activities will require reports either on a quarterly, half-yearly or annual basis.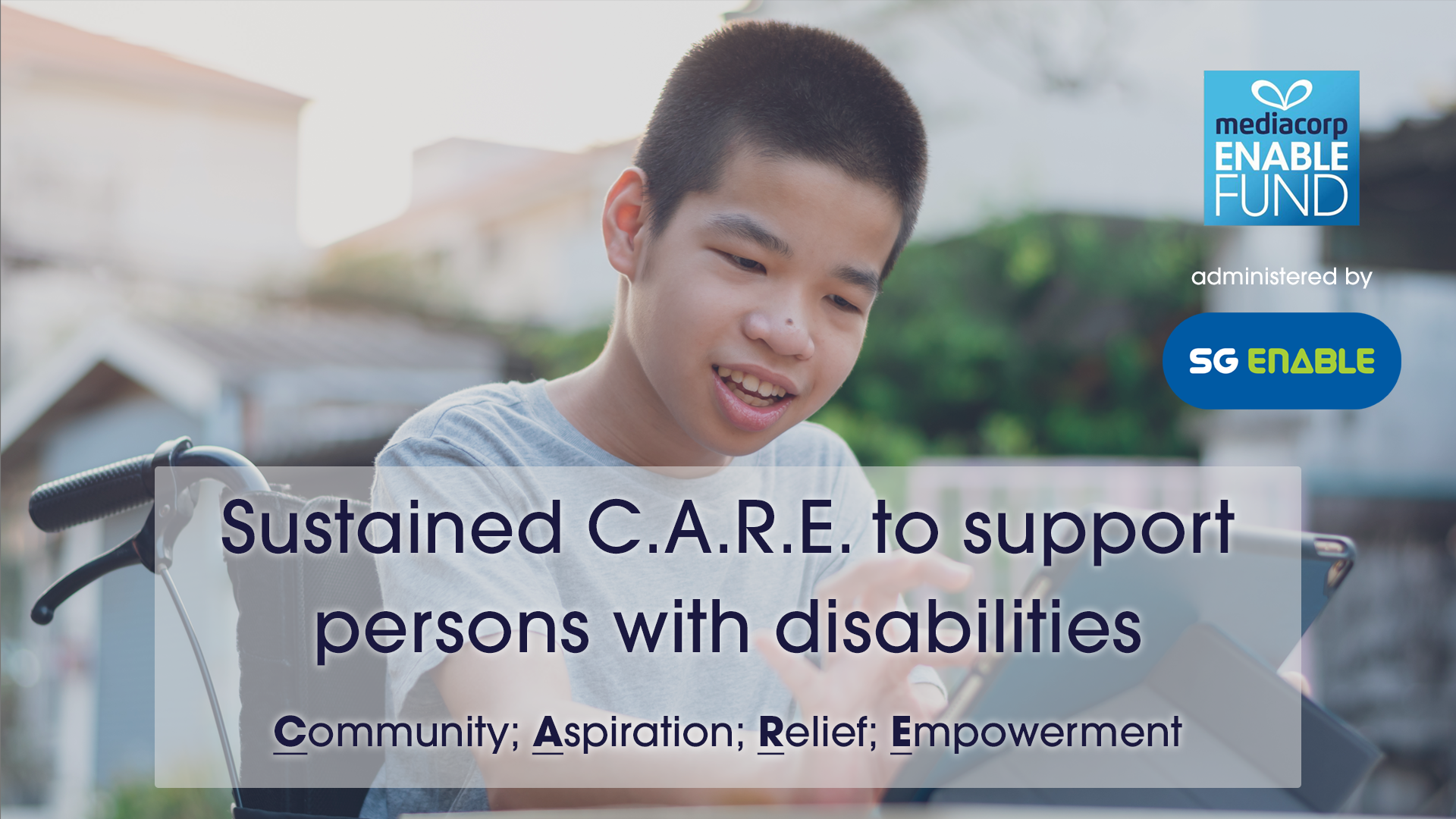 SINGAPORE: The Mediacorp Enable Fund is launching the Sustained CARE giving drive to support people with disabilities and their caregivers, who face a "disproportionately severe" impact from the COVID-19 pandemic.
"Caregivers have been under added pressure to provide for their loved ones due to adjustments that have to be made in access to rehabilitation and care services," said the company in a media advisory on Monday (May 24).
Many people with disabilities also continue to face challenges engaging in day-to-day activities, while also being affected by job losses and slower hiring, said Mediacorp.
Contributions to the Sustained CARE giving drive can be pledged online from now until Jul 30.
Donations will be used to meet the commuting and mobility needs of people with disabilities, nurture their talents, support their education and employment needs, and give respite and support to their caregivers.
"It has been a long fight against COVID-19 for everyone, and persons with disabilities and their families continue to face greater difficulties adapting to the challenges brought about by the pandemic," said Mediacorp CEO Tham Loke Kheng.
"We are committed to working with SG Enable to leverage the reach of our multiple platforms and influence of our talents to do our part to help this vulnerable community.
"We are also very grateful for the incredible support from donors during last year's campaign and we hope that those who are able to will continue to give wholeheartedly and generously again this year," said Ms Tham.
The Sustained CARE giving drive follows a previous initiative launched by the Mediacorp Enable Fund in May last year to respond quickly to the immediate needs of people with disabilities during Singapore's "circuit breaker" period.
That initiative raised S$577,000 in just over two months, supporting 2,000 beneficiaries.
SG Enable CEO Ku Geok Boon said: "The generous donations from corporates and the public have gone a long way in providing urgent and direct support to persons with disabilities and their caregivers, particularly during the circuit breaker.
"We are thankful for the public's generosity and Mediacorp's continued support with this second fundraising campaign to meet the beneficiaries' needs as they adjust to the new normal."
The Mediacorp Enable Fund is a community fund administered by SG Enable. It aims to help build a society where people with disabilities are recognised for their abilities and lead full, socially integrated lives.
SG Enable supports the fund's administrative functions and Mediacorp is the official media partner.
Source: CNA/dv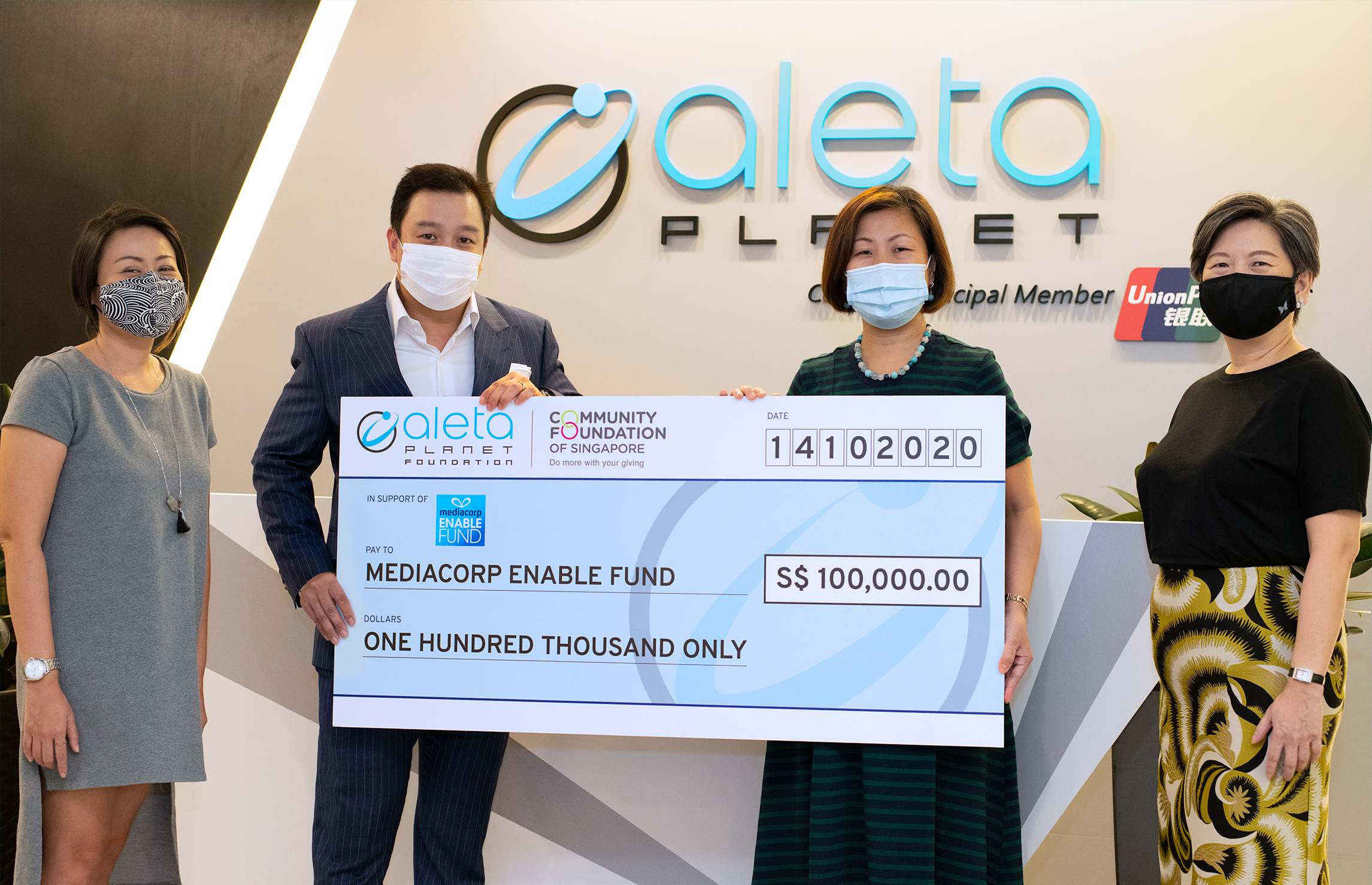 SINGAPORE: A new foundation established by Singapore-based fintech firm Aleta Planet has donated S$100,000 to the Mediacorp Enable Fund, the company said on Friday (Oct 16) in a media release.
Aleta Planet announced on Friday that the foundation will make donations to various charities, aiming to "create a positive impact on society at a time when the COVID-19 pandemic has adversely affected many livelihoods".
It will support the needs of the elderly and children in the local community, with an initial commitment of S$200,000, said the company.
The first of such donations is S$100,000 to the Mediacorp Enable Fund, a community fund administered by SG Enable that aims to help build a society where people with disabilities, including the elderly and children, "are recognised for their abilities and are able to lead full, socially integrated lives".
SG Enable chief executive officer Ku Geok Boon said: "We are deeply grateful to Aleta Planet Foundation for their strong spirit of charity and choosing the Mediacorp Enable Fund to make their first donation. 
"The generous contribution will provide much-needed financial assistance in meeting the last mile needs of persons with disabilities, as well as to help them fulfil their aspirations in life."
This will enable the foundation to connect with suitable charity partners as well as manage the funds it receives.
CEO of the Community Foundation of Singapore Catherine Loh said: "We look forward to closer collaboration with the Aleta Planet Foundation to identify gaps in the community so as to foster more effective giving and amplify the positive impact they have on our society."
Aleta Planet Foundation said its support for the elderly "will go particularly towards those abandoned by their families and those having to work despite their frailties". 
It will also focus on children with disabilities and those from low-income families whose parents "have little means to help them reach their full potential".
Aleta Planet chairman and group CEO Ryan Gwee said that contributions to the foundation will increase over time "as part of a sustainable corporate giving culture".
"As Aleta Planet has reached a level of growth, we feel that it is now fitting for us to give back to the community in which we operate," said Mr Gwee.
"This is especially timely amid a pandemic and recession that have created considerable hardship for the most vulnerable groups living on the fringes of our society.
From cooked meals and cash relief to the provision of essentials, a new initiative by the Mediacorp Enable Fund — a charity fund by national media network Mediacorp and SG Enable — aims to help people with disabilities and their caregivers ride out the Covid-19 pandemic.
The initiative "C.A.R.E." — short for the provision of cooked meals, assistance funds, respite care and essentials — will be driven by public donations, Mediacorp said in a statement on Thursday (May 14) as it launched the scheme.
The funds collected from the campaign will give beneficiaries access to:
Cooked meals. These will be for persons with physical disabilities or those with visual impairment who are living alone, frail persons with disabilities and aged caregivers
A one-off cash relief of S$400 for families with multiple persons with disabilities who face financial hardship and caregiving stress. This will help the families defray the costs of daily expenses and other needs, such as medical costs
Respite care — home-based respite that provides relief for caregivers. This will minimise the risks of burnout and injury for low-income elderly carers who look after persons with disabilities round-the-clock
Fortnightly distribution of dry food rations. This will help persons with physical disabilities or those with visual impairment who are living alone, frail persons with disabilities and elderly caregivers
Mediacorp said the impact of the Covid-19 outbreak on people with disabilities and their caregivers has been "disproportionately huge".
Those among this group who are seeking employment or are working have been hit hard, with some having lost their jobs, the company noted.
"Many have not been able to access rehabilitation and care services when non-essential services are suspended, while others face greater difficulty getting food and necessities due to mobility challenges," Mediacorp said.
Singapore is in the midst of an eight-week circuit breaker to curb the spread of Covid-19, with rules to limit business activity and restrict movement for all but essential activities.
To drive the initiative, the Mediacorp Enable Fund — a community fund administered by SG Enable, an agency supporting people with disabilities — has started a fundraising campaign on the Giving.sg website. It has set a target to raise S$500,000 by the end of June. 
Six Mediacorp personalities will chip in to the fundraising drive by rallying support and appealing for donations on Mediacorp platforms and social media.
They are presenters Glenda Chong (regional news network CNA), Fadli Kamsani (Warna 94.2FM), Lin Peifen (Yes 933), Chris Mak (987FM), Mohamed Rafi (Oli 96.8FM), as well as artiste Denise Camillia Tan from The Celebrity Agency.
Mediacorp chief executive officer Tham Loke Kheng said that nobody is spared the impact of the pandemic, in particular persons with disabilities and their caregivers.
"Mediacorp is committed to working with SG Enable to do our part to help this vulnerable group by leveraging our media network as well as the reach and influence of our artistes… to spread awareness of the C.A.R.E. donation drive," she said.
"We hope that members of the public who are able to help can support wholeheartedly and generously."
Read more at https://www.todayonline.com/singapore/mediacorp-launches-scheme-support-persons-disabilities-their-caregivers-during-covid-19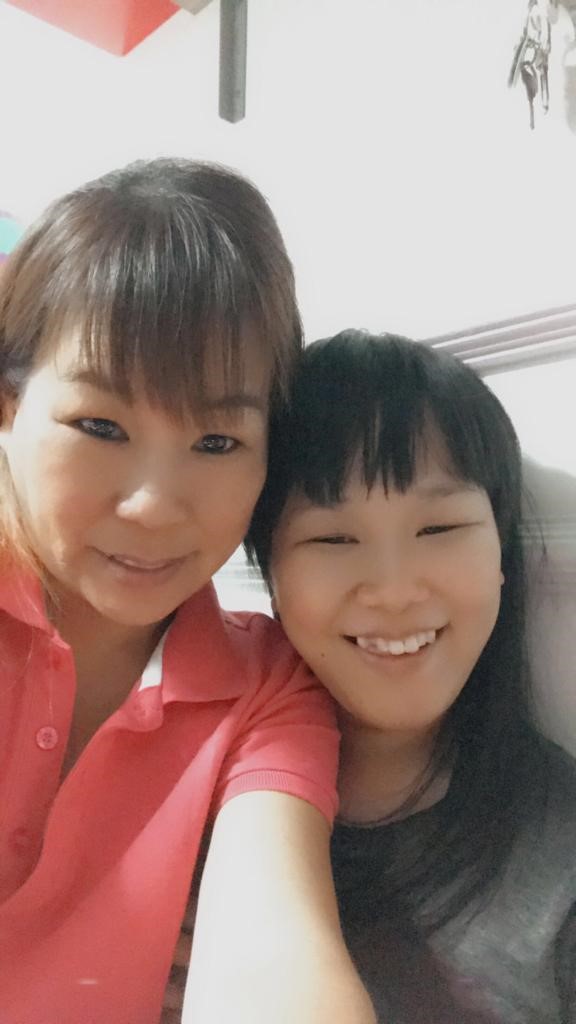 Heng Lye Nging has not had it easy. Her only child, Lina, was born with developmental delay, autism and hearing impairment, something she only confirmed when her child was three years old. Lina is now 24.
"I suspected something was wrong because she wasn't behaving like other children. She started babbling at eight months but stopped soon after. She never learnt to walk. She didn't play with other children," recalled Madam Heng.
It took several visits to various hospitals before Lina's disabilities were diagnosed. Madam Heng's in-laws could not accept the girl's condition and her marriage broke down soon after.
Although she was entitled to both alimony and child support after the divorce, Madam Heng never demanded either.
"If my ex-husband has money, he will give me some. If not, I don't ask," she said. "I only ask that he takes Lina out every weekend to spend time with her. That was my only condition."
Lasting Devotion
Left to support Lina on her own, Madam Heng began to work at coffee shops as a stall assistant, often clocking in 12- to 15-hour shifts.
"We try to make ends meet. Lina's not picky. When I don't have enough money, I feed her canned sardines and she is just as happy," smiled Madam Heng.
"On her birthday, she gets to eat KFC or McDonald's. She likes that and I buy her a little cake to celebrate. We do this only once a year. That's all we can afford."
Although Madam Heng did not make much, she made sure her daughter was well cared for. She hired a maid to watch over Lina when she went to work and trained the maid to care for her special needs child who, by her own admission, is not easy to manage.
"She throws temper tantrums when she can't get her way and won't take no for an answer. She hits people as well. The older she gets, the worse the tantrums have become. She also gets restless and refuses to sleep at night, choosing to pace the room or raid the refrigerator for food."  
As a result, they have not been able to retain their maids for long. The constant change of maids has been difficult on Lina as well.
"She will chase the new maid out of her room, refuse to eat or become violent. At times, she will vent her frustration by throwing things out of her bedroom window. I had to put a net across the window because she refused to stop," confided Madam Heng.
Still, she says Lina can be thoughtful.
"She may not be able to dress herself, bathe herself or go to the bathroom on her own, but she knows when she is loved and she can be sensitive to my needs," Madam Heng said.
"When I come home from work exhausted or when I am sad, she can sense it and she will give me a hug. She won't ask me for things like she usually does."  
Mother and daughter are so close they need neither words nor sign language to communicate.
"I can sense what she wants. It's a mother's instinct. Sometimes, just a look is enough for me to understand her."
Last Mile Help
Then a year ago, Madam Heng sustained a fall. She hurt her leg so badly she could not work. Without a regular income, she could not contribute to her Central Provident Fund (CPF). Without money in her CPF, she soon fell behind on the payment for her Housing Development Board (HDB) flat. She resorted to small loans from friends but it was still not enough. She faced the real risk of losing her home.
Through St Andrew's Autism Centre's Day Activity Centre (DAC) where Lina has been attending since 2012, Mediacorp Enable Fund (MEF) found out about Madam Heng's plight. Aid from MEF helped Madam Heng tide through a very difficult period by financing Lina's DAC fees, meals and transport for a one-year period.
 
"I am so grateful to MEF for their help. I don't usually like to rely on others. I try not to ask my family to help us because Lina is my responsibility. I don't expect others to take care of her," said Madam Heng.
Lasting Care
Asked about her hopes for Lina, Madam Heng is sober, "I live one day at a time. I don't ask for much, just that she grows up peacefully. I don't expect her ever to be able to work or take care of herself independently."
10 years ago, Madam Heng made plans for the day when she is no longer around to care for her only child.
"I told my niece to sell my flat and use the money to pay for Lina to stay at a home," said Madam Heng. "Until then, I will care for her the best that I can."
These days, things are looking up a little. Madam Heng's friend recommended her to a coffee shop and she is working once more.
"Lina is not be able to tell you what she wants or when she is not comfortable. All she will do is cry. As a mother, it is my job to figure out how to make her feel better. But when she is happy, she will give me a kiss."
An independent spirit who fiercely protects and loves her child, Madam Heng may not often ask for help, but she is always thankful when people come alongside her to ensure that her daughter is continually being trained and engaged. The rest, like the glimpses of affection Lina is able to show, is a bonus.
Arising from the family's dire financial situation, Lina's DAC programme fee had been deviated to $100 monthly for several years. Since January 2017, the fee has been paid by a private donor as Mdm Heng is unable to manage the cost of programme fee and bus transport. Further assistance has been extended for the programme fee till March 2019. Other short-term assistance was also arranged to defray the family's daily living expenses. The family's financial situation has not improved. Mdm Heng foresees she will have difficulty with managing the cost of DAC and transport after March 2019.
In addition, Mdm Heng has no savings and exhausted her CPF.
In Feb 2019, MEF granted $3,000 as a last mile need, to help meet Ms Lina's DAC programme fee and meal expense, as well as the balance bus transport cost, all amounting to $257.50 per month so as to alleviate the financial strain on the family.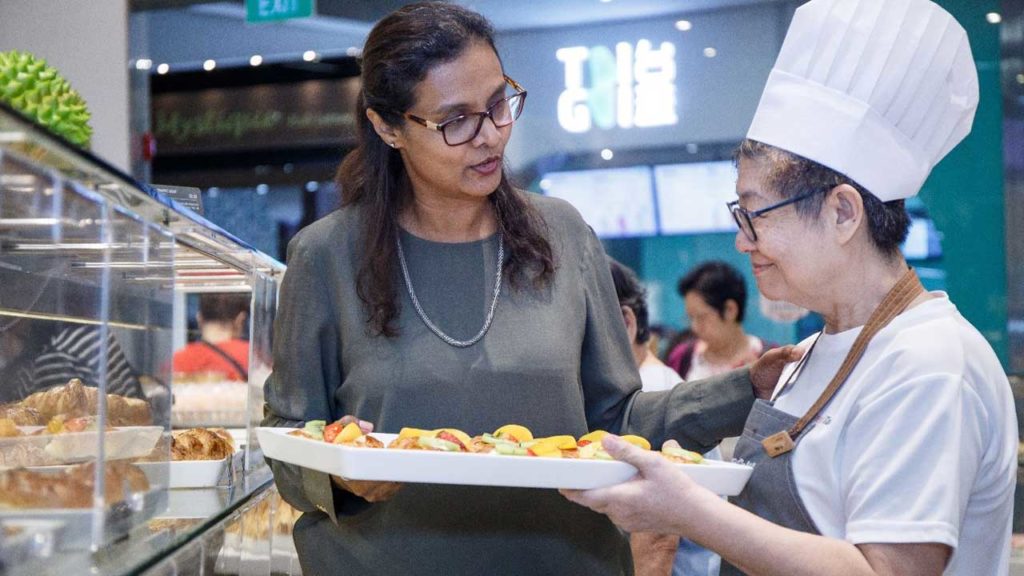 ABLE began with a vision that the physically challenged should not be left behind in society. That singular idea led to the founding of Abilities Beyond Limitations and Expectations (ABLE) in 2009 which sits under Caritas Singapore, the official social and community arm of the Catholic Church in Singapore.
A decade in, ABLE has empowered many with physical disabilities to live dignified, productive and independent lives through their signature Return-to-Work (RTW) programme.
"We customise our Return-To-Work programme based on the needs of each client, who may have acquired a disability resulting from conditions such as a stroke or traumatic brain injury," said ABLE's Rehabilitation Programme Manager, Carmen Lok.
Partners in Enabling
Always looking to support efforts that enable those with disabilities, it was natural for Mediacorp Enable Fund (MEF) to support ABLE's initiatives through a partnership with SG Enable. MEF supports some of ABLE's employment support services, allowing the charity to help people with acquired disabilities return to work.
"The partnership is very important to us especially in our efforts to help those with disabilities who come from low-income backgrounds," said Ms Lok.
Rebuild Lives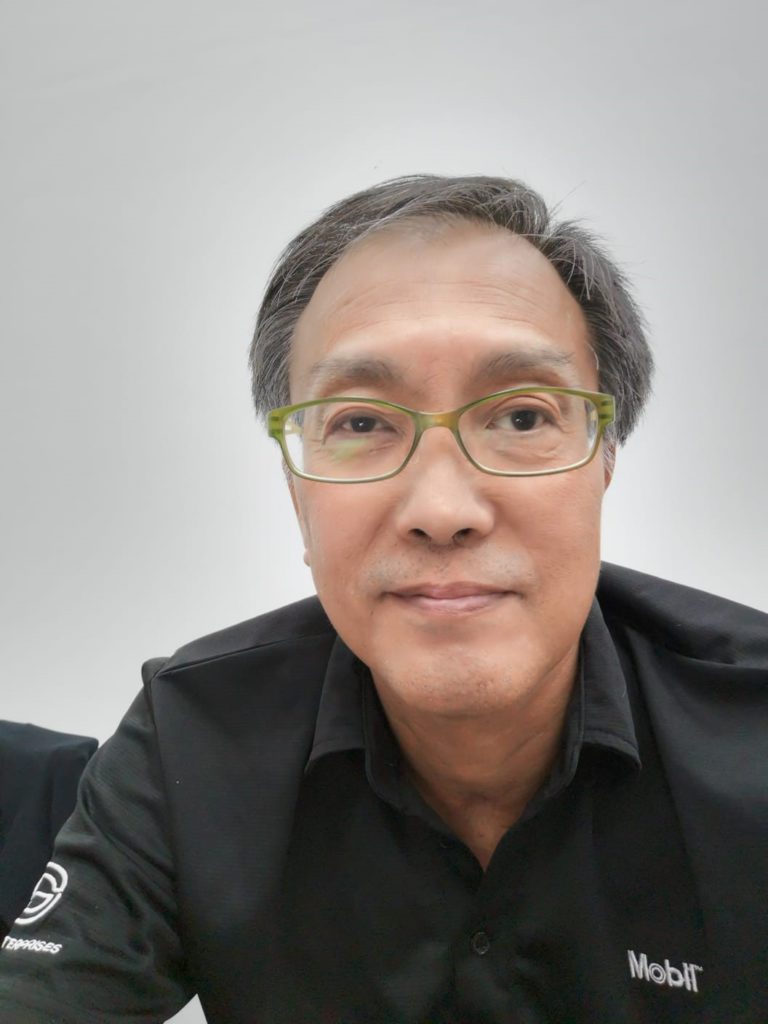 ABLE's work may be targeted specifically at persons with disabilities, but for those it helps, ABLE is central to their sense of worth and well-being. Manfred Seah, 59, would certainly testify to this. Eight years ago, Mr Seah's world fell apart because of a single, though deadly, bout of fever.
"I was on a business to trip to the US when I suddenly came down with a fever. I carried on with my activities as usual but after I returned to Singapore five days later, I had to be sent to the ICU. I was in a coma for one and a half months due to a viral infection," recalled Mr Seah.
The virus attacked Mr Seah's spinal cord and brain. By the time he woke up, Mr Seah could no longer walk and his left eye was affected. For a year, he was bed-ridden and had to undergo physiotherapy at home.
"After a while, I realised I couldn't carry on like that. So, St Andrew's Community Hospital, where I was undergoing physiotherapy, linked me up with ABLE in 2017."
ABLE became integral to Mr Seah's efforts to return to the workforce.
Re-train to Return to Work
Mr Seah entered ABLE's multi-disciplinary Rehabilitation and Training programme that includes rehabilitation, employment support, training and social work services. He started off with physiotherapy to improve his activities of daily living and increase his community mobility. Through employment support sessions, he explored potential job sectors, discovered what he wanted in his career and identified his training needs to achieve his career goal.
"I used to be the head of my company's IT department, so I wanted to go back into something IT-related," said Mr Seah.
ABLE's Employment Support Specialist provided vocational counselling and helped him match his skills to available jobs and re-design his skill sets to increase his employability. When he was ready to go on a job hunt, ABLE was on hand to assist Mr Seah in the creation of a new resume and to approach employers.  
"We have been fortunate enough to work with many inclusive employers willing to employ those with disabilities and give them a new lease of life. A common misconception employers have is that they would need to invest a huge amount of resources into accommodating employees with disabilities. However, this is often not the case. For example, it may be as simple as customizing the employee's job tasks based on their strengths and abilities," said Ms Lok.
Persons with disabilities face a variety of challenges when they seek employment. For example, some companies do not have group insurance that can cover the new hires with disabilities because of their pre-existing medical conditions. Others, like one employer who initially wanted to hire Mr Seah, do not have wheelchair-friendly offices.
"They wanted to hire me to teach English to their employees but their office didn't have an elevator," said Mr Seah.
In May 2018, a year after getting assistance from ABLE, he managed to secure a job as an IT system Advisor in an SME.  
Continue to Support
ABLE's support does not end when its clients become employed.
"We offer post-employment support to help them transition back into the workforce," said Ms Lok.
ABLE's Employment Support Specialist visited Mr Seah's workplace to better understand his work environment and provide accommodations advisory to Mr Seah's employer if needed.
"This is so the newly employed can excel at their jobs," said Ms Lok.
Life may not always be fair, but everyone deserves a fair chance. That is why ABLE strives to give everyone a success story like Mr Seah's.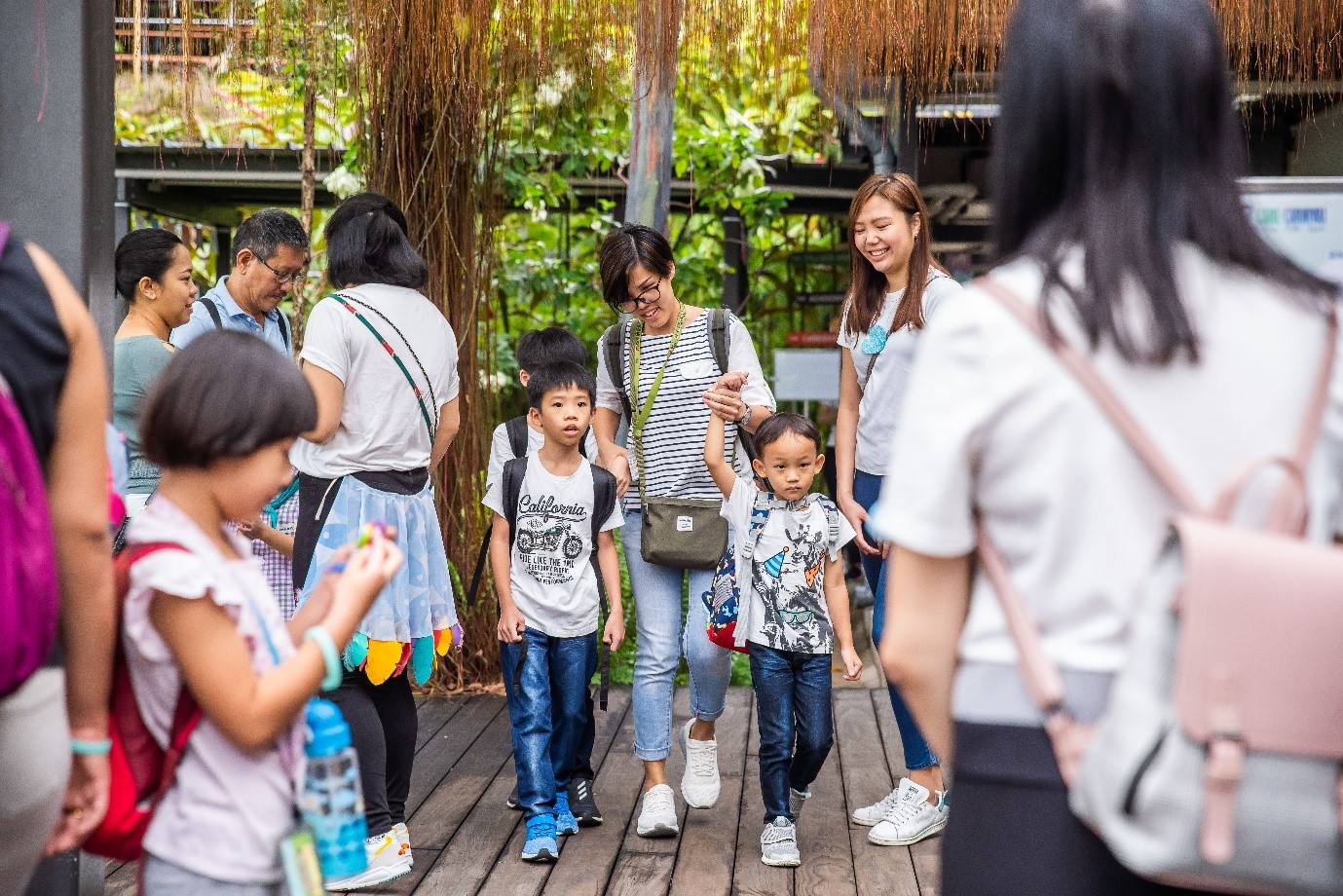 Raising one child with special needs is challenging enough. Raising three puts unimaginable stress and strain on the family. Yet, this is Annette Chua's reality. Annette's six-year-old son is suspected to have autism. She is also caring for her nephews who both have autism. The older boy who is 11 is also being treated for depression and anxiety while his nine-year-old brother is being tested for learning disabilities.
"Our situation is quite challenging. I don't just have to manage the boys, I have to manage their parents as well who have mental health issues and are going through a divorce. Because I don't have legal guardianship of my nephews, I continually have to go through their parents and they are often not co-operative," shared Annette.
"My husband is also not supportive of the situation and I am largely left on my own to care for our son and my nephews."
Annette has to depend on her parents for financial help because her brother and sister-in-law do not chip in and her husband is mired in debt. Yet, her plight is not unique. Many caregivers of those with disabilities face their trying circumstances alone, uninformed and unsupported.
Caregivers Unite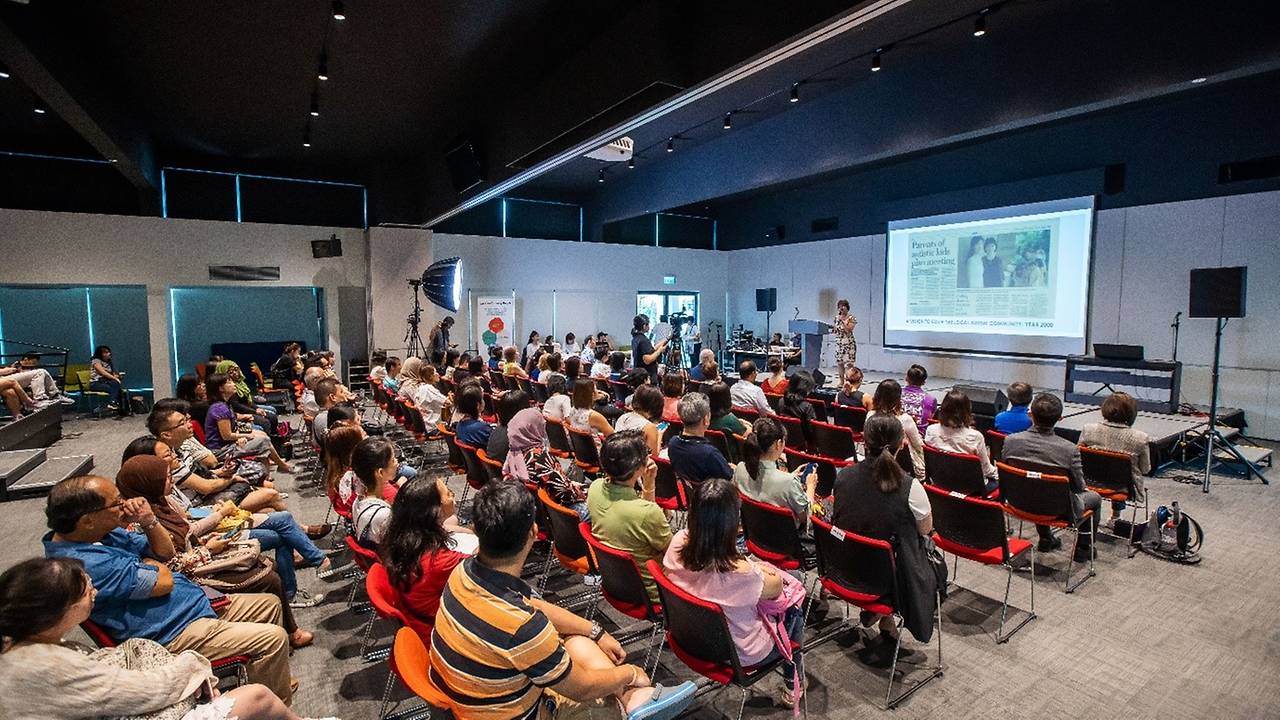 Few understand the needs of such caregivers quite like fellow caregivers. That is why some of them decided to come together in November 2019 to organise Care Carnival. The one-day event aimed to connect, enable and empower caregivers of children and youths with special needs. Together they shared knowledge and practices, and built partnerships with the community, professional bodies and stakeholders.
"I enjoyed myself because at Care Carnival there were child-minding volunteers who helped me care for the boys so I could attend the talks and discussions," said Annette.
"It was also good to be in a place where people didn't stare at my boys when they acted up. I came away with lots of takeaways as well such as online resources to help the boys and organisations which provide activities that support caregivers."
This focus on empowering caregivers is exactly what Mediacorp Enable Fund (MEF) believes in as well. That is why MEF supported the event as a major sponsor to create a more inclusive society.
Caregivers Learn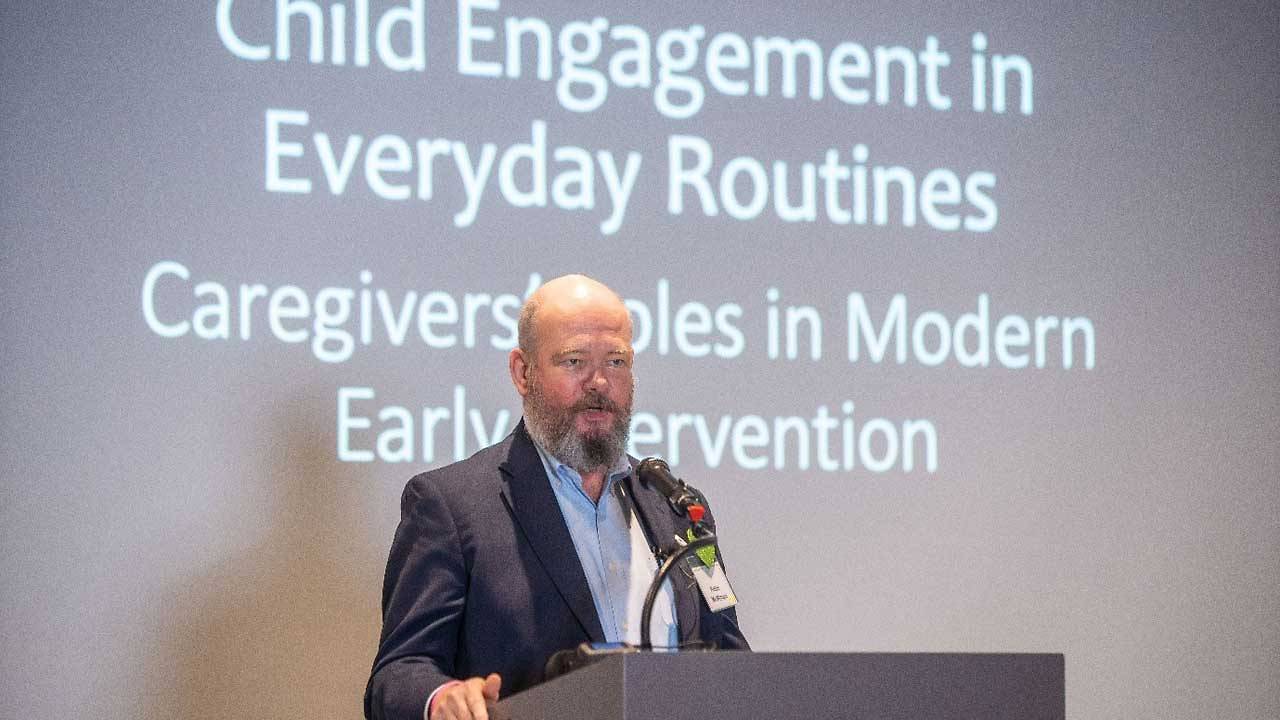 Nearly 500 caregivers, their children, volunteers, partners, service providers and performers came together that Saturday for Care Carnival. Attendees got to listen to event speaker Professor Robin McWilliam. A special education professor at The University of Alabama, and the Founder and Director of the Evidence-based International Early Intervention Office (EIEIO), Professor McWilliam is an expert in early intervention. He developed the Routines-Based Model (RBM) of Early Intervention (Birth-6).
RBM is a collection of practices that helps those with young children with disabilities to cope by enabling the children to function optimally in their daily routines at home and in school. Instead of letting professionals teach the children during isolated sessions, RBM teaches families to manage their children's learning needs throughout their day-to-day activities.
At the talk, Professor McWilliam discussed strategies to optimise learning opportunities for special needs children and engage them to improve their development and quality of life. Caregivers also learnt parenting activities and teaching methods that have been proven to be successful. In this way, families can decide how best to enable their children.
"It was good to know that children learn best from their natural settings, and that they can be engaged to learn through their daily routines and even pick up general knowledge essential for their independence in the future when they are grown up," said Annette.
Caregivers Connect
To give caregivers more avenues for help, 20 service providers set up interest-based activity booths to showcase programmes available to special needs children and youths. From performance art, art and craft, and culinary to sports and outdoor, science and technology, and horticulture and agriculture, caregivers saw myriad possible ways their charges could be engaged.
The participants found the carnival educational and informative, one said she was surprised that the scene for special needs had developed so much over the years and that there was that much more now that could be done for special needs children.   
Caregivers also received the support they needed. They took part in a focus group discussion with professionals and community stakeholders, and connected with support groups over lunch. A tour of the Enabling Village gave them insights into community resources available to them as well.
The inaugural event was certainly an important step towards building a vibrant and dynamic caregiving community. Many enjoyed it so much that they asked for more of such events. With initiatives like these, caregivers need never journey alone and unaided.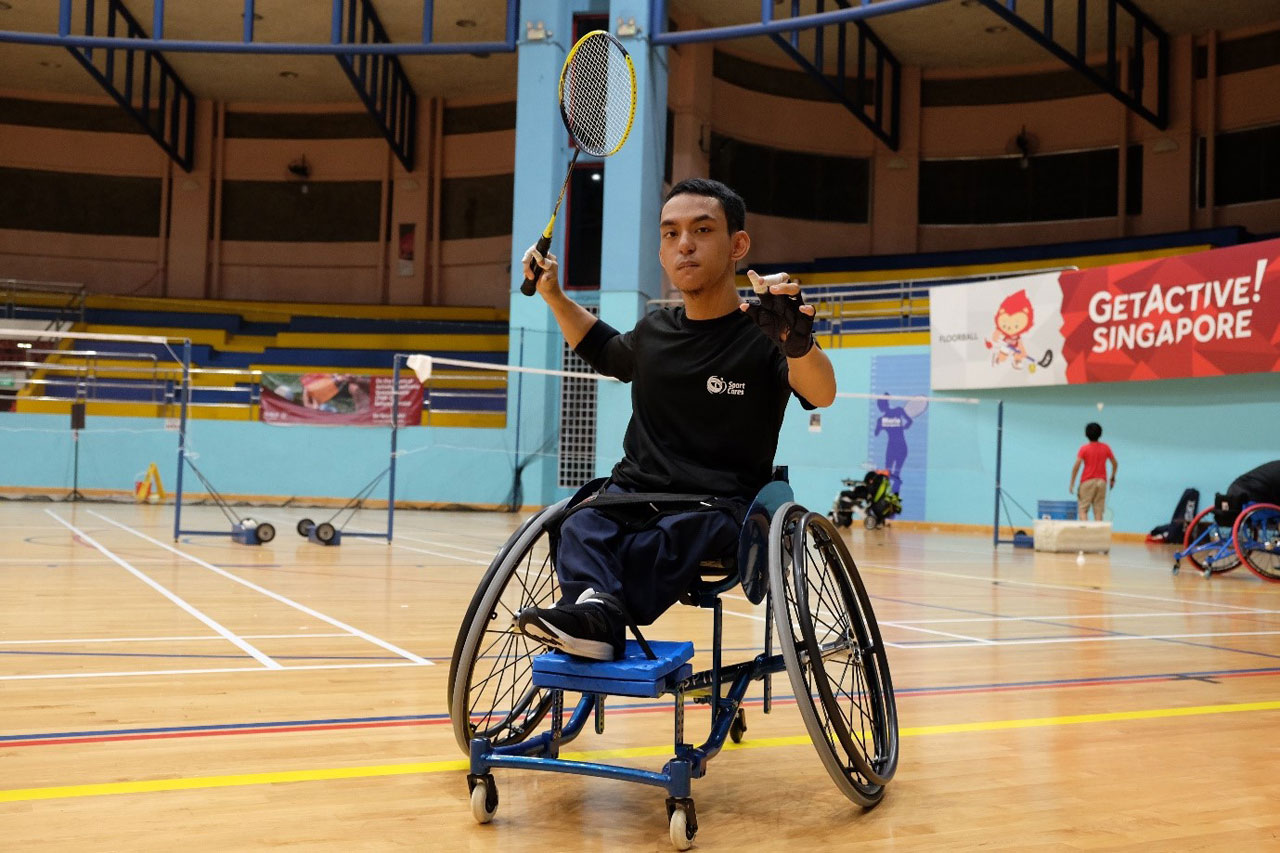 Like many children, Akram Ramadan Misrawi, 24, began playing badminton because it was something his family did.
"I started out since young because usually my family would, especially during the holidays, invite me out to play badminton for recreation, under the void deck," recalled Akram.
It did not matter that he was born with skeletal dysplasia and that the condition affected the development of his limbs so he could neither walk nor grip things properly.
"I can't really hold [the racket] the way normal players do for most of the shots, so I have to improvise in a way that suits my disability," he said.
His family encouraged him anyway.
"They know how active I am, they know how I like badminton, so they asked me to try it."
Big Dreams
Soon, fun family activity gave way to aspiration and Akram began dreaming of playing for Singapore.
"If you are competitive, you have scheduled training programmes," he explained. "I like badminton so I want to increase my skills to more of a competitive level, instead of just hitting [the shuttlecock] around."
In 2015, he began playing competitively. He was so good that two years later, he represented Singapore at the Asian Youth Para Games in Dubai.
Big Hurdle
But for this Nanyang Polytechnic graduate, there were limits to his aspirations. Beyond buying the usual sports equipment for badminton, he needed a special wheelchair.
"[The one I have] was more for basketball. The structure of the wheelchair is different which makes it not suitable for badminton", Akram explained. 
"If you move fast and suddenly break, you might fall over because of the weight. There were numerous times where I fell over while playing, so that's why I decided to get a new wheelchair."
A sports wheelchair for badminton would cost upward of $5,000, amounting to even $7,000 for a good one. It was money his family did not have.
Big Help
This is the plight of many with disabilities. It is not the lack of ability nor ambition that stops them from living out their potential and fulfilling their dreams. It is the lack of finances and opportunities. At times like these, a helping hand can go a long way.
For Akram, that helping hand came from Mediacorp Enable Fund which sponsored a new wheelchair specifically designed for para-badminton players.
"It really helped to lift the burden off our shoulders and we didn't have to worry about paying that amount of money," said Akram, who is the second of three children.
"The new one is a bit lighter; you can move faster. Performance-wise I am able to focus more on the game."
Now, Akram has plans to hit the big leagues and do Singapore proud.
"My goal with this new chair is to excel in my training and to one day participate in games such as Asean [Para] Games," he said.