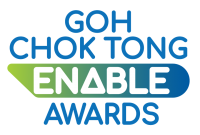 About The Awards
The Goh Chok Tong (GCT) Enable Awards, a new initiative by Goh Chok Tong Enable Fund (GCTEF), was launched on 15 January 2019. The founding of the Awards was inspired by Emeritus Senior Minister Goh Chok Tong, who is the Patron of GCTEF.
It aims to recognise the achievements of persons with disabilities, and to motivate those with promise and potential to go the distance with their endeavours.
Award Categories
1. GCT Enable Awards (Achievement)
To recognise persons with disabilities who have made significant achievements in their own fields and serve as an inspiration to others.
2. GCT Enable Awards (Promise)
To encourage persons with disabilities who have shown promise to pursue greater heights in their areas of talent and willingness to serve the community.
Value Of Awards
1. GCT Enable Awards (Achievement)
$10,000 to awardee
$5,000 to nominating organisation(s) that are Institutions of Public Character or Government educational institutions
2. GCT Enable Awards (Promise)
Nomination Procedures
Candidature for the Award is strictly by nomination. Nomination can be made by an individual or organisation. Individuals exclude immediate family members. Organisations refer to non-profits, public agencies and private corporates.
Nominations must be made via the online Nomination Form, with the required supporting documents attached. Only online nominations will be accepted.
Nomination made will remain valid for up to a period of three years.
Nomination Period
Nominations close on 23 July 2023. The award ceremony will be held in November 2023.