Not boxed in by disability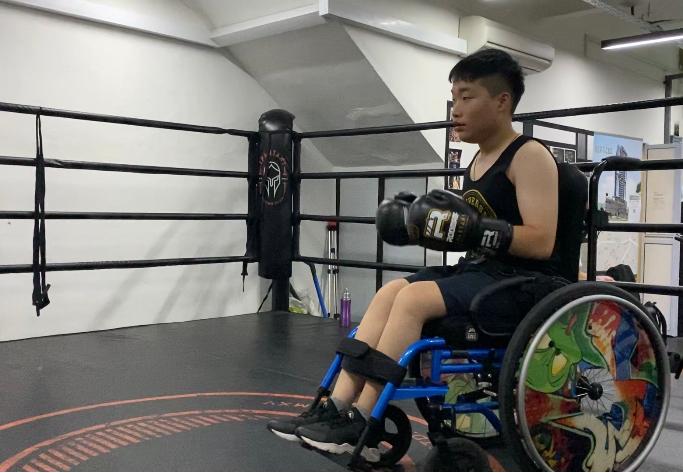 Not boxed in by disability
He swims and plays bocce. He has tried archery and horseriding. He has even given powerlifting a go. But the sport he loves best is boxing.
On his passion, 17-year-old Keith Tan says: "I have loved combat sports since young, so taking up boxing is natural for me. I find strength when I'm doing it, and it trains my mind to be sharper."
Indeed, strength may be an important attribute for most teenage boys but for Keith, a second-year student at the Institute of Technical Education (ITE) @ Simei, it is especially significant because he has spastic diplegia cerebral palsy.
A different childhood
He was diagnosed with the neurological condition when he was one.
"As a baby, I wasn't that active. I wasn't rolling around or crawling. I would just lie there. My aunt was the one who first noticed it. So, my mother went to the doctor to see if this was cause for concern. The doctor then told my mum that I have cerebral palsy."
The condition affects muscle control and coordination – it increases muscle tone such that a person's muscles become stiff, and reflexes are exaggerated. Motor or movement milestones tend to be delayed too. 
For Keith, this means that doing "even the simplest stuff" has been a challenge. He requires help for daily activities like bathing, getting dressed and visiting the toilet, and moves around in a wheelchair. 
"My movements, especially waist down, are restricted. I can't stand with both hands free. One hand has to be holding on to something for support. Speech is another thing. Sometimes my voice sounds strained because my muscles tense up."
To help him, Keith always has a domestic helper by his side, even when he goes to school. However, he shares that having an adult supervising his every move has put a dampener on making new friends.
"I can't be myself because there is always someone there. So, I am more guarded and that has contributed to my introverted nature. But I want to change that as I get older. I want to be more independent."
Ticked the right boxes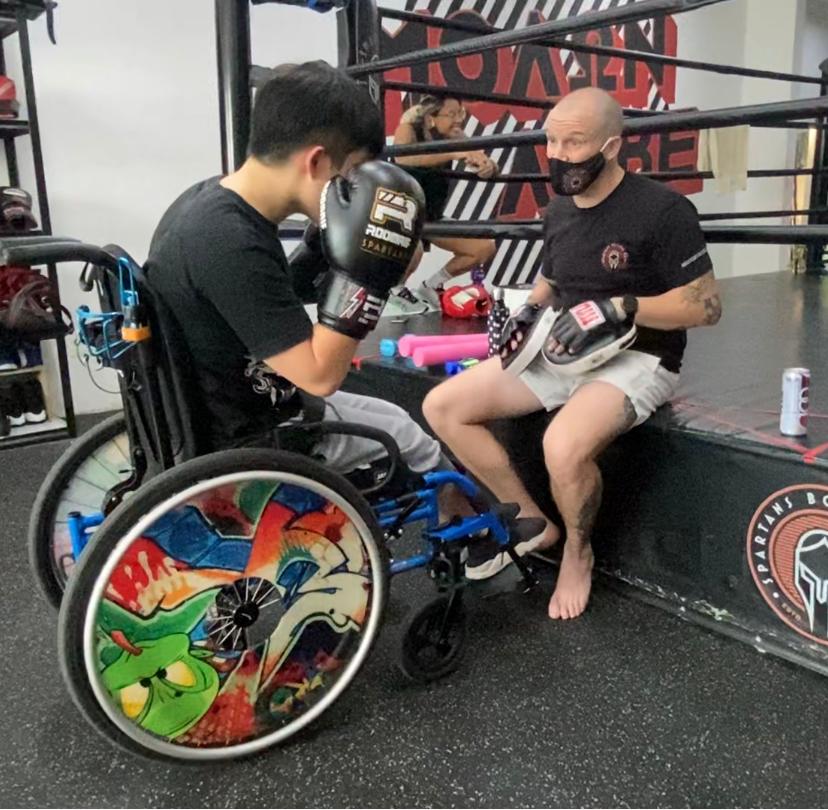 Keith having a post-session debrief with his boxing coach after his training.
In October 2019, Keith decided to take up boxing, a sport that had intrigued him for a long time.
In his search for a school that would take him in, Keith chanced upon the Spartans Boxing Club. He wrote in without much expectation, but was warmly welcomed by the owner and he soon started lessons.
However, as Keith progressed, he realised that his wheelchair was not ideal for the sport, and he needed a sturdier wheelchair that could move around better. This was tough for his single mum who works in F&B, as a new wheelchair could easily cost up to a five-figure sum.
With assistance from the Mediacorp Enable Fund, Keith was able to buy a customised wheelchair that can support him better as he spars and trains. The new wheelchair is also lighter, making it easier for Tan to manoeuvre as he goes about his daily activities.
For the aspiring programmer who intends to further his studies at a polytechnic after he graduates from ITE, boxing seems to be the sport that has ticked all the right boxes for him.
"This is something I can do for the long haul, and I am grateful to be able to receive help from MEF to buy a new wheelchair so that I can continue my passion."