New support for SPED schools alumni networks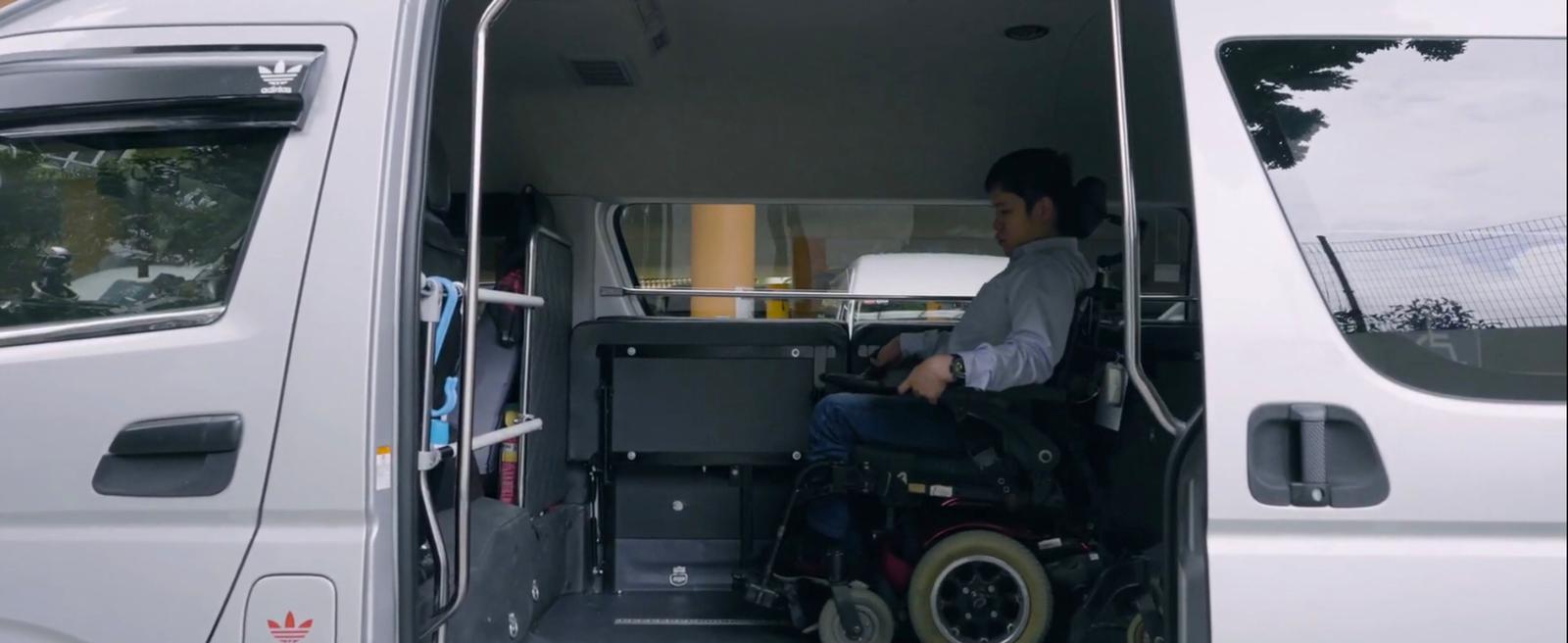 Alumni Neo Kah Whye on his way home in a hydraulic van after participating in the Hydro Weekly programme at CPAS.
New support for SPED schools for continued engagement with alumni
Once a person with disability graduates from a Special Education (SPED) school, he / she may be transitioned into the workforce through programmes like the School-to-Work Transition Programme that enhances the independence and integration of the graduate.  
However, such programmes currently do not include activities that help these graduates maintain the ties that they have built in school, as such bonding activities require extra resources that SPED schools do not have.
A need to support SPED school alumni networks
This is where the Mediacorp Enable Fund (MEF) comes in. MEF aims to build a society where persons with disabilities are recognised for their abilities and are enabled to lead full, socially integrated lives. SG Enable, an agency dedicated to enabling persons with disabilities, is MEF's administrator while Mediacorp is its official media partner.
In supporting SPED schools and their networks, the community-based fund has since expanded its aid to include support for the caregivers of persons with disabilities, as well as for programmes that look to foster a network of SPED alumni so they do not become isolated.
Specifically, the MEF will support SPED schools or their parent organisations under its SPED Alumni Engagement funding for outreach programmes that encourages continued engagement by the community with their alumni networks. 
On this, Ms Selina Heng, Manager of SG Enable said: "The relationships that these graduates have established in school are crucial to their overall development and it is important for them to continue to have a strong support network."
SPED Alumni Engagement Support's first recipient
In January 2021, MEF's Community Fund supported Cerebral Palsy Alliance Singapore (CPAS) with S$20,000 under its SPED Alumni Engagement funding. This will go to defraying their cost of running their Beyond Boundaries Club's weekly programmes, which include riding lessons, hydrotherapy, creative arts and music, digital art and flower design.
Ms Yurnita Bte Omar, Alumni Liaison Executive of Adult Services at CPAS said: "We are thankful to be the first recipient of MEF's SPED Alumni Engagement funding. This will assist with the cost of running our weeklactivities, through which we hope to bridge the gap between our alumni and the community. With the funding, we also hope to reach out to more high support and home-bound alumni."
Some 35 CPAS alumni, aged between 18 and 55, with moderate to severe physical or multiple disabilities will benefit from the funding this year.
How SPED schools can qualify for funding
SPED schools (or their parent organisations) hoping to get support for their alumni engagement initiatives can apply for the funding under two categories:
Ad-hoc events such as social recreational activities for alumni and families; and / or
Regular or structured programmes including learning and development programmes and self-improvement courses for alumni.
Applications that do not fall into these categories will be assessed on a case–by-case basis.
Schools can submit a proposal through their principal any time during the year but can only receive funding once every 12 months. Their proposal, complete with an application form, should map out key details such as when the activity will take place, its nature and objectives, the target number of participants as well as the budget.
Once funding has been given and the event or programme completed, a brief report of the entire proceeding needs to be submitted. Regular activities will require reports either on a quarterly, half-yearly or annual basis.