Gift from one, hope for many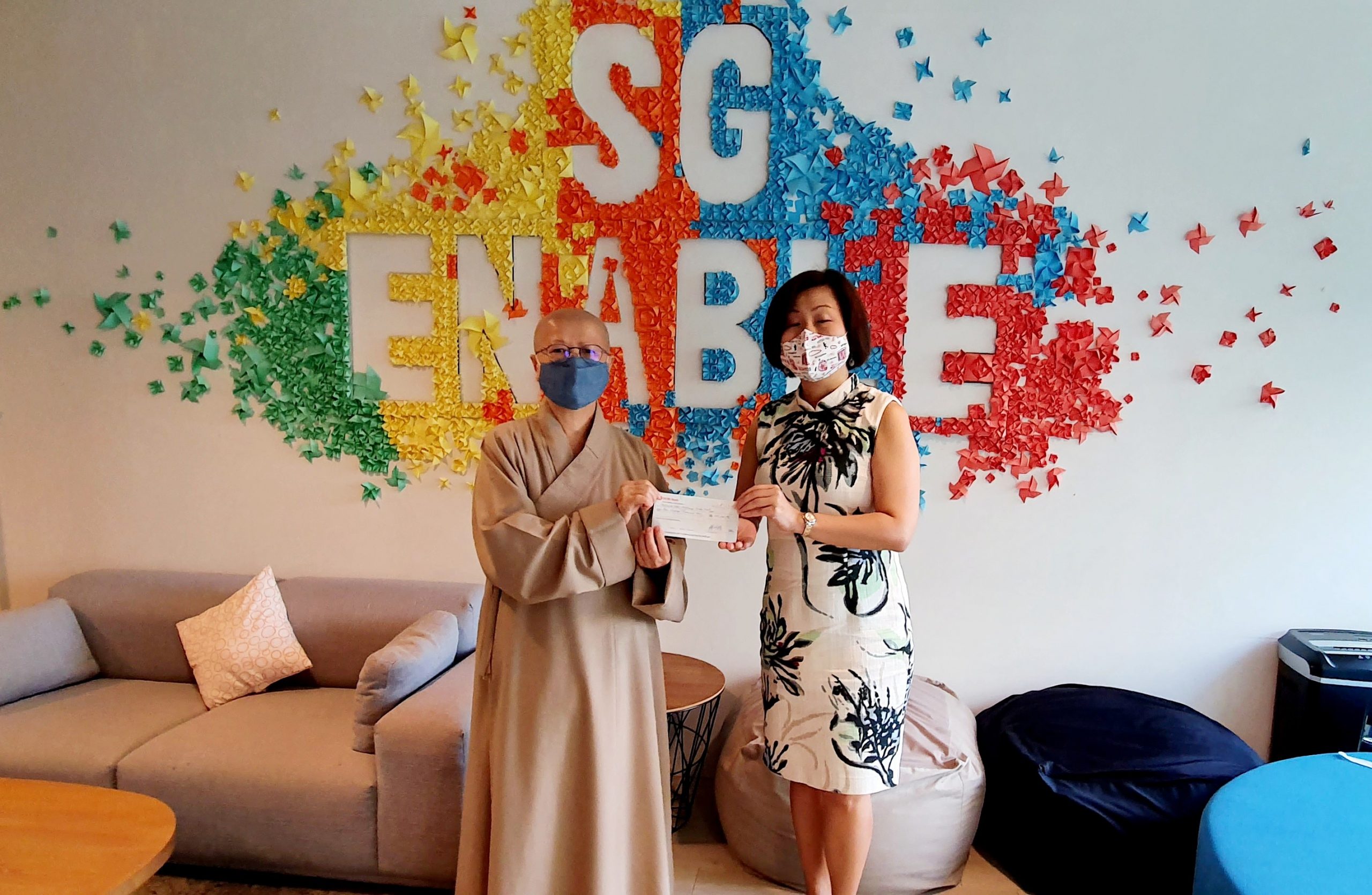 Venerable Sek Ming Woon, one of two executrices of the late Venerable Suit's estate, presenting a S$100,000 cheque to CEO of SG Enable, Ms Ku Geok Boon
The late Venerable Suit Woo Foong was a simple man. Born in China in 1921, he became a monk when he was just 12 and lived in monasteries until he passed away at the age of 97 in 2018.
In his final years, Venerable Suit lived in Singapore's oldest Buddhist monastery, the Lian Shan Shuang Lin Monastery.
Known to be compassionate and generous, he was dedicated throughout his life to the pursuit of the spiritual as well as the alleviation of sufferings of the physical world.
It came, then, as no surprise that he had bequeathed proceeds from the only asset he owned – a house in Telok Kurau – to several charities.
The Mediacorp Enable Fund (MEF) was one of these charities. It received S$100,000 in support of its work to build a society where persons with disabilities are recognised for their abilities and are enabled to lead full, socially integrated lives.
The donation from the estate of the late Venerable Suit will go towards funding three broad areas: Aspirations and Last Mile Needs, Transition to Work, and Community Support.
In the area of Aspirations and Last Mile Needs, individuals will be supported in skills development or with financial assistance, while organisations will be aided in the development of their talents. The Transition to Work scope provides customised training and employment programmes to smoothen transition at critical stages of life. Community Support is a three-pronged effort that supports initiatives to enhance the independence and integration of people with disabilities, offers support to caregivers, and fosters a network of Special Education (SPED) alumni so that they do not become isolated.
Said Ms Ku Geok Boon, CEO of SG Enable which administers MEF: "We are grateful for this kind donation from the estate of the late Venerable Suit Woo Foong. It is most timely as the impact of COVID-19 on persons with disabilities and their caregivers is showing to be disproportionately huge compared to other vulnerable groups. (Venerable Suit's) generosity will enable MEF to continue extending help and relief to persons with disabilities, and encourage them to keep their faith and stay positive, knowing that the community cares for them during these difficult times."