Last Mile Help Hits Home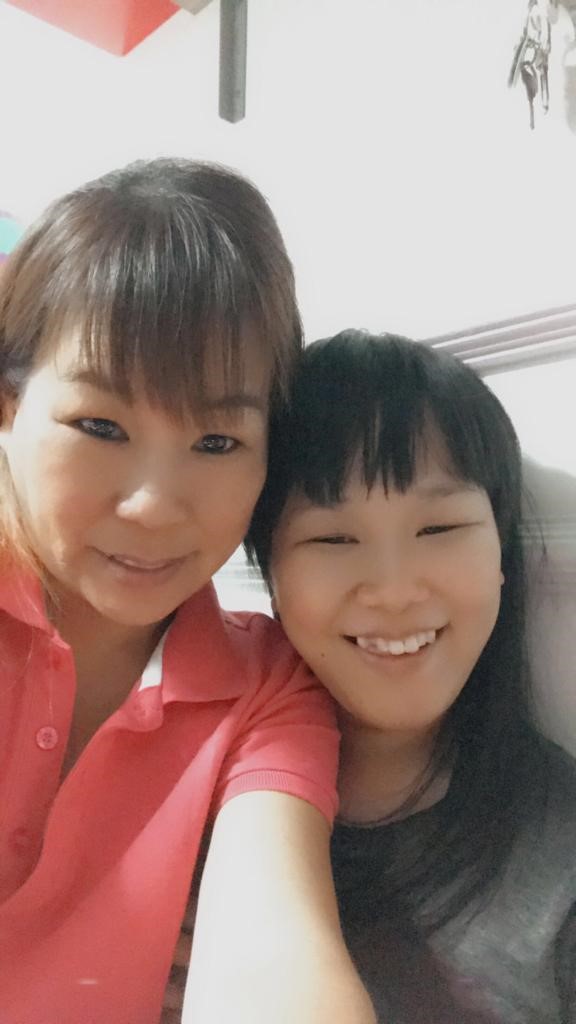 Heng Lye Nging has not had it easy. Her only child, Lina, was born with developmental delay, autism and hearing impairment, something she only confirmed when her child was three years old. Lina is now 24.
"I suspected something was wrong because she wasn't behaving like other children. She started babbling at eight months but stopped soon after. She never learnt to walk. She didn't play with other children," recalled Madam Heng.
It took several visits to various hospitals before Lina's disabilities were diagnosed. Madam Heng's in-laws could not accept the girl's condition and her marriage broke down soon after.
Although she was entitled to both alimony and child support after the divorce, Madam Heng never demanded either.
"If my ex-husband has money, he will give me some. If not, I don't ask," she said. "I only ask that he takes Lina out every weekend to spend time with her. That was my only condition."
Lasting Devotion
Left to support Lina on her own, Madam Heng began to work at coffee shops as a stall assistant, often clocking in 12- to 15-hour shifts.
"We try to make ends meet. Lina's not picky. When I don't have enough money, I feed her canned sardines and she is just as happy," smiled Madam Heng.
"On her birthday, she gets to eat KFC or McDonald's. She likes that and I buy her a little cake to celebrate. We do this only once a year. That's all we can afford."
Although Madam Heng did not make much, she made sure her daughter was well cared for. She hired a maid to watch over Lina when she went to work and trained the maid to care for her special needs child who, by her own admission, is not easy to manage.
"She throws temper tantrums when she can't get her way and won't take no for an answer. She hits people as well. The older she gets, the worse the tantrums have become. She also gets restless and refuses to sleep at night, choosing to pace the room or raid the refrigerator for food."  
As a result, they have not been able to retain their maids for long. The constant change of maids has been difficult on Lina as well.
"She will chase the new maid out of her room, refuse to eat or become violent. At times, she will vent her frustration by throwing things out of her bedroom window. I had to put a net across the window because she refused to stop," confided Madam Heng.
Still, she says Lina can be thoughtful.
"She may not be able to dress herself, bathe herself or go to the bathroom on her own, but she knows when she is loved and she can be sensitive to my needs," Madam Heng said.
"When I come home from work exhausted or when I am sad, she can sense it and she will give me a hug. She won't ask me for things like she usually does."  
Mother and daughter are so close they need neither words nor sign language to communicate.
"I can sense what she wants. It's a mother's instinct. Sometimes, just a look is enough for me to understand her."
Last Mile Help
Then a year ago, Madam Heng sustained a fall. She hurt her leg so badly she could not work. Without a regular income, she could not contribute to her Central Provident Fund (CPF). Without money in her CPF, she soon fell behind on the payment for her Housing Development Board (HDB) flat. She resorted to small loans from friends but it was still not enough. She faced the real risk of losing her home.
Through St Andrew's Autism Centre's Day Activity Centre (DAC) where Lina has been attending since 2012, Mediacorp Enable Fund (MEF) found out about Madam Heng's plight. Aid from MEF helped Madam Heng tide through a very difficult period by financing Lina's DAC fees, meals and transport for a one-year period.
 
"I am so grateful to MEF for their help. I don't usually like to rely on others. I try not to ask my family to help us because Lina is my responsibility. I don't expect others to take care of her," said Madam Heng.
Lasting Care
Asked about her hopes for Lina, Madam Heng is sober, "I live one day at a time. I don't ask for much, just that she grows up peacefully. I don't expect her ever to be able to work or take care of herself independently."
10 years ago, Madam Heng made plans for the day when she is no longer around to care for her only child.
"I told my niece to sell my flat and use the money to pay for Lina to stay at a home," said Madam Heng. "Until then, I will care for her the best that I can."
These days, things are looking up a little. Madam Heng's friend recommended her to a coffee shop and she is working once more.
"Lina is not be able to tell you what she wants or when she is not comfortable. All she will do is cry. As a mother, it is my job to figure out how to make her feel better. But when she is happy, she will give me a kiss."
An independent spirit who fiercely protects and loves her child, Madam Heng may not often ask for help, but she is always thankful when people come alongside her to ensure that her daughter is continually being trained and engaged. The rest, like the glimpses of affection Lina is able to show, is a bonus.
Arising from the family's dire financial situation, Lina's DAC programme fee had been deviated to $100 monthly for several years. Since January 2017, the fee has been paid by a private donor as Mdm Heng is unable to manage the cost of programme fee and bus transport. Further assistance has been extended for the programme fee till March 2019. Other short-term assistance was also arranged to defray the family's daily living expenses. The family's financial situation has not improved. Mdm Heng foresees she will have difficulty with managing the cost of DAC and transport after March 2019.
In addition, Mdm Heng has no savings and exhausted her CPF.
In Feb 2019, MEF granted $3,000 as a last mile need, to help meet Ms Lina's DAC programme fee and meal expense, as well as the balance bus transport cost, all amounting to $257.50 per month so as to alleviate the financial strain on the family.