Tall Order: The Goh Chok Tong Story raises S$2 million for charity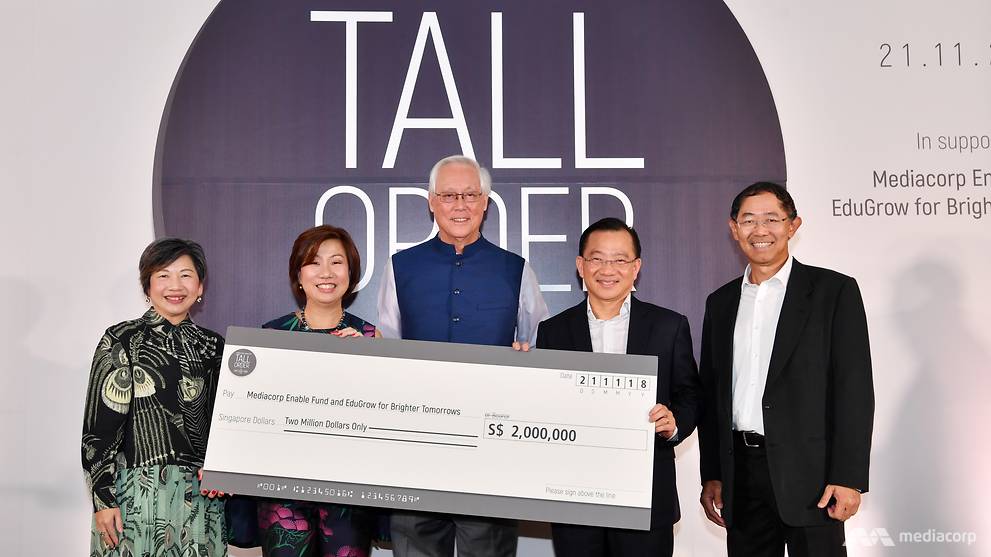 SINGAPORE: More than S$2 million was raised at a charity launch of Emeritus Senior Minister Goh Chok Tong's biography – A Tall Order: The Goh Chok Tong Story on Wednesday (Nov 21).
The charity event sold more than 250 copies of the book autographed by Mr Goh. The books were priced at S$2,000, S$10,000 and S$50,000.
The proceeds from the event, as well as all royalties from the sales of the books, will go towards two charities Mr Goh is patron of – the Mediacorp Enable Fund and EduGrow for Brighter Tomorrows. 
The book, which documents Mr Goh's life and career, was officially launched on Nov 8 by Prime Minister Lee Hsien Loong. It is written by former Straits Times journalist Peh Shing Huei.
Speaking at the event, Mr Goh said his generation enjoyed meritocracy and social mobility put in place by the Government and nurtured by society. He stressed that it's important to continue efforts to keep Singapore a meritocratic society. 
"A government bursary paid my way through university, my life turned out well, not just because of my own effort but also because of our practice of meritocracy, " said Mr Goh. 
"I did not have to rely on 'guanxi' (Chinese for networks or connections), I had equal opportunities to study, compete, get a job and do well on my own steam," he said.
"Meritocracy cannot be left to its own devices. We must constantly adjust to maintain an open system with opportunities for all Singaporeans to advance themselves," he added.
The Mediacorp Enable Fund, formerly known as the Today Enable Fund, seeks to help people with disabilities realise their aspirations, improve their skills and work prospects.
EduGrow for Brighter Tomorrows is an initiative that supports the growth of children from disadvantaged families in areas including education and character building.