Barista with intellectual disability pours her heart into latte art
SINGAPORE — At the Singapore Latte Art Championship held at Marina Bay Sands last month, Ms Nuraqilah Fatin Swat found herself pitted against professional baristas Kinsmen Coffee and House of Robert Timms.
Refusing to let nerves get the better of her, the 23-year-old weaved elaborate designs such as a peacock with coloured feathers, a double winged-swan and inverted tulips.
The "scariest" point in the competition was when she encountered a technical issue when steaming milk. Although Ms Fatin could have called for a time-out, the shy and soft-spoken woman, who has mild intellectual disability, decided not to do so as the pressure of everyone watching was too nerve-wracking.
Despite some fumbles and spills and the design not turning out as well as she hoped, she managed to place 13th out of 20 contestants.
Although initially disappointed, Ms Fatin said being onstage was the "most memorable moment".
"I was proud of myself for making it that far," she said.
Ms Fatin, who was diagnosed with an intellectual disability at the age of 10, has always loved creating art by painting or moulding miniature clay figurines. She is not a coffee drinker, but stumbled on latte art by chance in 2014 when her teacher at the Association for Persons with Special Needs' Delta Senior School (DSS) shared a video in class.
Intrigued, she went on YouTube to learn more and got the chance to put her newfound interest into practice the following year, during a one-year internship as a barista at McDonald's McCafe at Northpoint.
She started by using chocolate sauce and one end of a thermometer to make basic patterns, and went on to work at McCafe for another year after the internship.
"Every cup I serve, I try (to do my best) when creating the latte art", she said.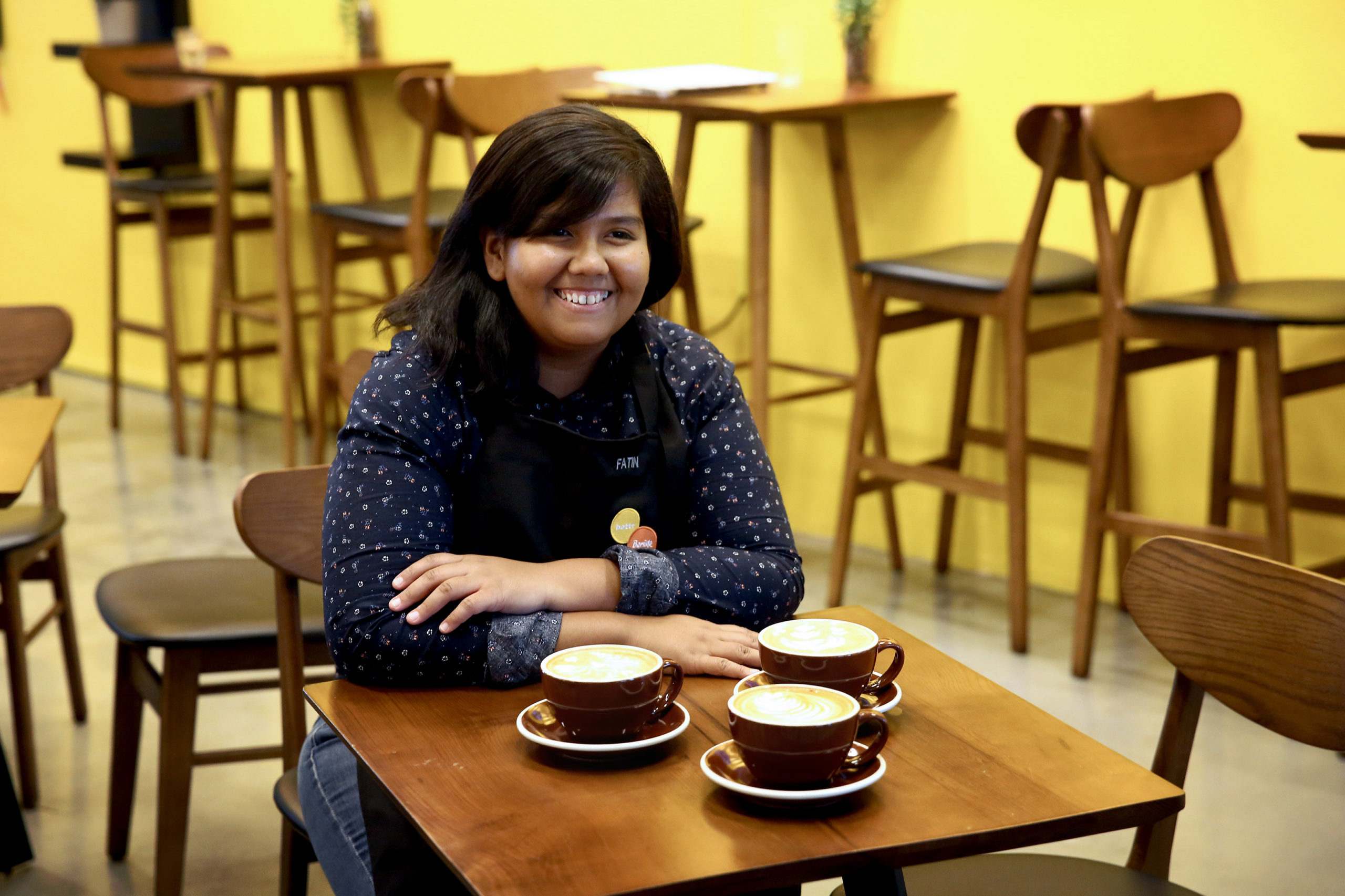 Barista Nuraqilah Fatin Swat with her latte art. Photo: Nuria Ling/TODAY 
With the help of her DSS teacher and job coach Rosnah Jumat, 32, Ms Fatin landed a job as a full-time barista at social enterprise Bettr Barista Coffee Academy last year.
She shuttles between its different outlets at NTUC Income Centre at Bras Brasah, Khoo Teck Puat Hospital, the Ministry of Social and Family Development and DBS Plaza Singapura.
To prepare for the championship, Ms Fatin trained intensively under three trainers from Bettr Barista from January to March this year. She honed her technique in pouring, worked on consistency and tried her hand at more complicated designs.
She also received support in the form of a S$3,000 grant last year from the TODAY Enable Fund, which helped to defray competition, training, and equipment expenses.
Bettr Barista trainer Levina Wong, 27, who called Ms Fatin an enthusiastic and hardworking student, recounted staying up until 1am to practise with her in the lead-up to the competition. Ms Wong, who has observed Ms Fatin gaining more confidence, was also proud of her for maintaining her calm and not panicking during the championship.
The road so far has not been without challenges: Ms Fatin says she still struggles to work fast enough to complete her creations within the time limit, deliver her presentation speech to the judges and master new designs quickly.
She hopes to one day "travel round the world to learn more about coffee" and train under internationally renowned baristas such as her idol Caleb "Tiger" Cha, a Korean-Australian latte art champion who she follows on Instagram.
Mr Cha, who earned his nickname from his signature tiger patterns, was a judge at the recent Singapore Latte Art Championship and Ms Fatin was jittery with excitement when she saw him in real life.
She has set her sights on next year's competition and also wants to pick up skills in pastry and dessert decoration.
To her teachers and juniors at DSS, Ms Fatin is already a winner, Ms Rosnah said.