Faster laptop, uncle's support spurs blind erhu player to give her best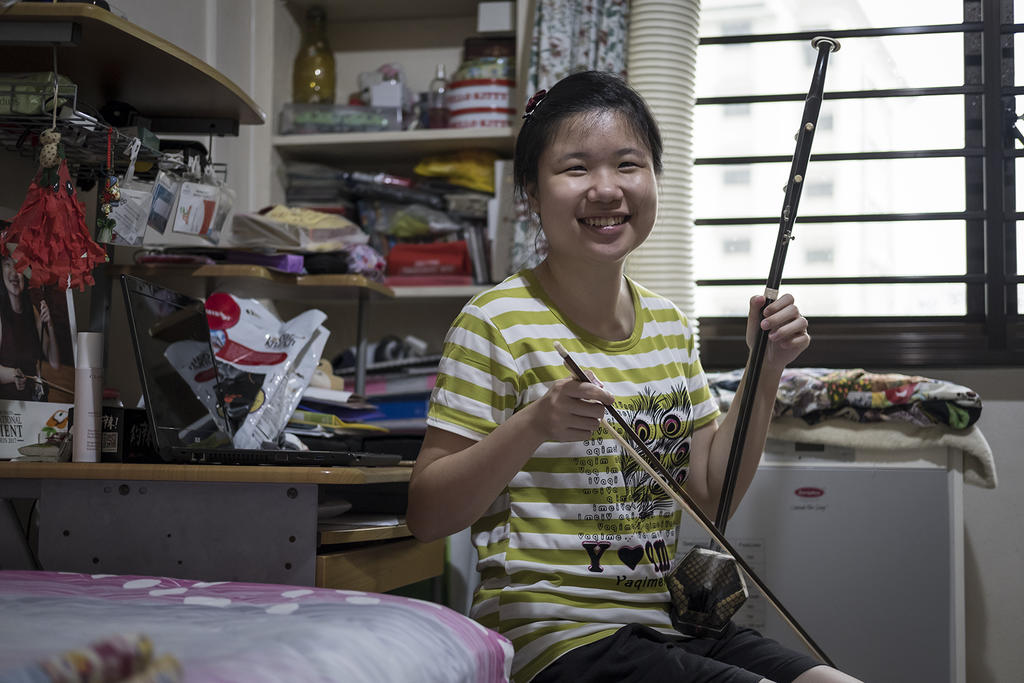 As the TODAY Enable Fund marks its first anniversary in December, TODAY catches up with three beneficiaries to find out how their lives have improved with the help of the fund. In the last of three reports, Ms Stephanie Ow talks about plugging away towards her dream
SINGAPORE — Some four months ago, erhu (a two-stringed bowed instrument) player Stephanie Ow, 21, was still relying on a four-year-old laptop to complete her readings and assignments.
"It was slow … I was worried, like, how am I going to get a laptop? Laptops usually are very expensive," the second-year music student at the Nanyang Academy of Fine Arts told TODAY.
Ms Ow, who is blind, relies on the laptop and a screen reader – a software that allows the visually-impaired to read text with a speech synthesizer or Braille display – to read her notes and complete her assignments.
Her first laptop was a gift from a relative after she completed her N levels when she was 17. She used it mostly to listen to music, surf YouTube and check her emails. She also saves the PDF versions of her music scores in the laptop.
But as schoolwork started to pile up, she realised her old laptop started to freeze more frequently and her screen reader had problems reading documents on the laptop.
Amid plans for her family to start saving up for a better laptop, she received S$3,000 in April from the TODAY Enable Fund. The fund, set up a year ago and administered by SG Enable, supports efforts to enhance the education, skills and employment prospects of people with disabilities.
About S$600 was used to buy a new black Acer laptop while the rest was spent on transportation and to pay for her meals in school. Her paternal uncle drives her to school every day, often incurring Electronic Road Pricing charges, along the way.
Without the funding, Ms Ow said her family would have taken time to save up. Her uncle, who is a Taoist priest, does not have a regular stream of income from his work.
"My family and I were thinking we can try and save up to get a new one but, fortunately, there was this TODAY Enable Fund which can help me to get a new laptop… and it will be able to help me with my learning in future," she said.
Ms Ow was diagnosed with retinal dystrophy when she was five. She lives with her paternal aunt and uncle in a four-room Sengkang flat after her parents left her there when she was younger.
Proving her naysayers wrong, Ms Ow now plays with the Singapore National Youth Chinese Orchestra (SNYCO), where she is the only person there with visual impairment. She is also with the Purple Symphony, made up of musicians with and without special needs, and performed at this year's National Day Parade.
Her teachers and peers had discouraged her from pursuing music after their secondary education, but she received a Deutsche Bank-Singapore Chinese Orchestra Music Scholarship that pays for all her training with the SNYCO and her fees for the three-year diploma.
With the help received so far, Ms Ow admits she feels added pressure to do well and live up to expectations.
She shared these concerns with her uncle, Mr Lee Leong Seng, 61, during car rides to school.
"I told her not to give herself pressure. If she can only achieve 10 marks, get 10 marks… she doesn't have to achieve the 100 marks people ask of her," he said in Mandarin.
Mr Lee was the one who introduced Ms Ow to the erhu. A fan of Cantonese opera, he finally signed up for dizi (flute) classes in Chinatown at the age of 54.
A few months later, he learned that Ms Ow, who was 14 then, had tried but failed to join the school's Chinese orchestra. He decided to send her to the same music school for erhu classes, but had to give up his own music lessons as they could not afford it.
He now learns the dizi and yangqin (a plucked string instrument) on his own in his free time.
The sacrifice was worth it, said Mr Lee.
"I see her achievements today and feel that what I gave up was worth it. I'm happy and proud to see where she is now," he said.