Teen with muscular dystrophy wants to make others happy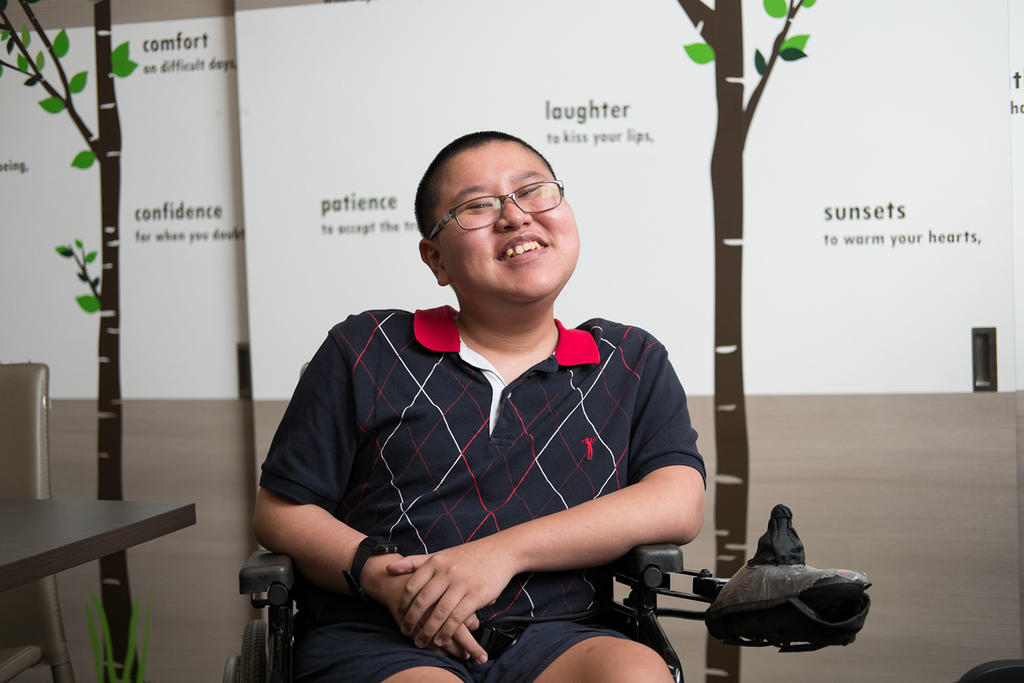 SINGAPORE — Eighteen-year-old Andrew Tan, who has muscular dystrophy, dreams of starting his own online greeting card business one day.
He wants to bring a smile to people's faces in a role where his physical limitations do not matter.
Andrew received S$2,000 from the TODAY Enable Fund in May to support his school expenses at the Assumption Pathway School. The fund, set up a year ago and administered by SG Enable, supports efforts to enhance the education, skills and employment prospects of people with disabilities.
He stumbled on design by chance in 2014, during a three-day basic design course at the Muscular Dystrophy Association of Singapore (MDAS). He learnt to sketch simple items like fruits on the Adobe Illustrator programme, and his interest was piqued.
Through a two-year course in desktop publishing at Assumption Pathway School, Andrew honed his skills further in the design of posters, brochures, advertisements, infographics, magazine covers and festive greeting cards.
He often trawls through Pinterest on his Macbook Pro for a dose of inspiration.
He graduated this year and is now attending a four-month design course at MDAS — part of the association's Bridge programme which helps clients to develop life skills through vocational training.
MDAS has worked with organisations like online retailer GobblerShop. MDAS' clients were tasked to help the retailer touch up or trim product pictures for its website, said MDAS' executive director Sherena Loh.
MDAS' clients who are trained to be graphic designers have also been tasked to help companies design their websites and greeting cards, for instance.
"Many children with muscular dystrophy have limited options for employment because of the severity (of their condition), so we expose them to a variety of (life and vocational skills)," said Ms Loh.
Asked why he is looking to start a greeting card business, Andrew said people can be "happy" when receiving them from friends and family. "The friendship can last very long and there is no conflict," he said.
The young man, who zips around on an electronic wheelchair that he has dubbed his "Mercedes with 6.2 litre" — an upgrade from the manual wheelchair he used previously — is also passionate about cars. He hopes to start a website detailing each model in detail.
He is determined to exceed the expectations that some members of society have of the disabled.
"They will be shocked to know people with disabilities can be as useful and successful as normal people," said Andrew, who wants to be a role model for his younger brother, 16, who also has muscular dystrophy.
The family used a small portion of the S$2,000 disbursed to purchase pens and files to store Andrew's work. Most of it was used to hire a private van to ferry Andrew to and from Assumption Pathway School over three months. His wheelchair transport service costs about S$500 to S$600 each month.
Without the funding, Andrew's father Albert Tan, 49, said the family would have to cut back on their expenses by eating out less often, for instance. The servicing technician takes his family out for meals about once a week, at times having the boys' favourite food – sushi.
Mr Tan and his wife, a clerical officer, have come to accept their sons' condition after the initial sadness and disappointment. They discovered Andrew's condition when he was six, after they noticed he did not have the strength to walk and could not cycle. Their younger son, Anthony, was diagnosed around the same time after doctors conducted tests on the boys.
"As parents, we try to support, encourage and guide them… I just do whatever we can help them. They need to study and learn how to survive, and the most important thing is to live happily," he said.
Mr Tan is thankful for the boys' cheerful disposition. "They know their condition, they know what will happen to them… and they still live so happily, so we should be very grateful."