One-armed American guitarist inspires children in Singapore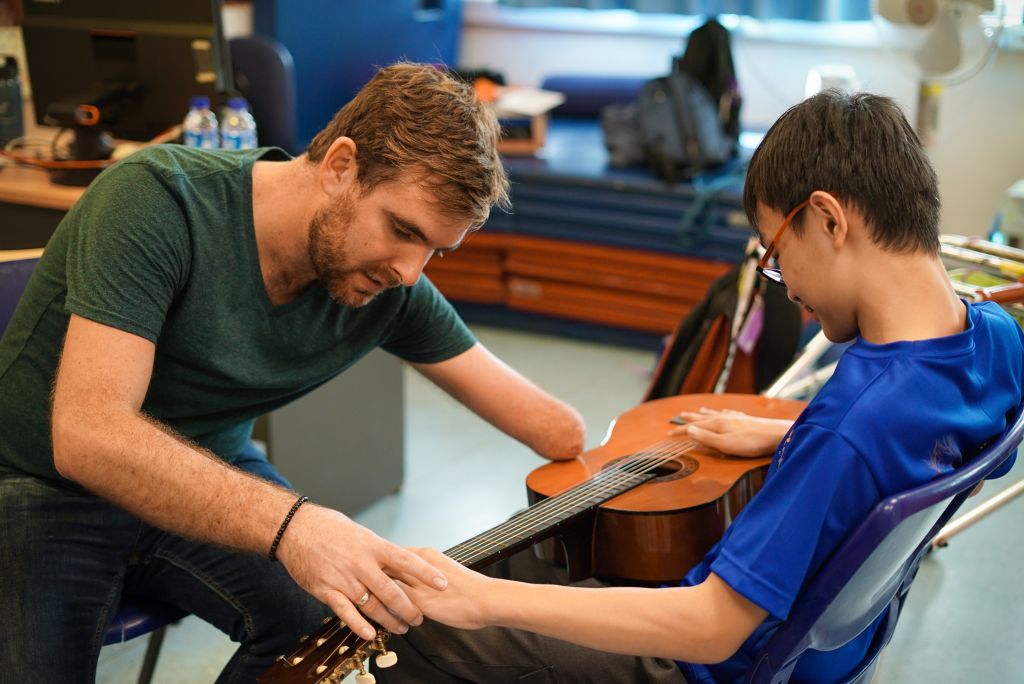 SINGAPORE — In a moment of magic at Grace Orchard School recently, visiting American singer and guitarist Tony Memmel received a request from a student to play a pop song. When he started on the first few bars of Katy Perry's Roar, another student picked up an extra microphone, made his way to the front of the audience and began belting out the song.
"Everybody was singing and clapping along with him, he made our day," said Mr Memmel's wife Lesleigh, who accompanied him to the school, which caters to students with mild intellectual disability and mild autism.
The couple were here for six days last month as Mr Memmel, who turns 32 on Sunday (Dec 3), was part of the American Music Abroad Tour organised by the United States Embassy in Singapore.
Born without a left forearm and hand, Mr Memmel taught himself to play the guitar by making a cast out of duct tape that functions as a guitar pick to his arm.
He and his band visited several schools including Juying Secondary and Grace Orchard School, and also interacted with children from the Cerebral Palsy Alliance Singapore. They held a free concert for about 100 people at the Enabling Village, for which the TODAY Enable Fund sponsored the venue.
Ms Memmel, 32, who used to work as a nurse, plays the piano and helps with the handling of music and sound equipment.
They first met 13 years ago in choir practice as students at the University of Wisconsin Oshkosh. "He walked in and asked if he could sit by me, and we dated… and it's been nine years since we've been married now," said Ms Memmel.
Besides their music, their relationship has also inspired others.
A meeting with a boy in Uruguay was one of the most memorable to date. "(The) teenage boy said that he was so moved just by seeing Lesleigh and I together, (as it was) very rare to see someone with a physical disability like mine with someone 'normal' like Lesleigh in a relationship," said Mr Memmel. "By just being who we are, we are able to touch people in a way we never could have expected."
Said his wife: "I never gave his disability a second thought because he was such a nice person."
Mr Memmel spent eight years experimenting with ways to attach a pick to his elbow so he could pluck the strings of the guitar.
"I started by just going around the house… collecting a box of supplies that I thought would help me… glue, tape, string, sleeves, socks," he said.
After eight years of trial and error, he perfected the taping mechanism by wrapping Gorilla tape around his elbow and creating a sharp end that functions as a pick.
His limb difference has helped him develop a strong work ethic.
"(It) takes work to get good at tasks, and sometimes extra time and practice and a way of thinking outside the box to accomplish things," said Mr Memmel.
He still keeps his first guitar — a Fender Stratocaster electric left-handed guitar in midnight blue, bought with money earned as a part-time soccer referee and baby-sitter in his teens – at home on a stand.
"There's all this grime and dirt from all of the duct tape that came off from my picks from learning how to play… and it just shows me how much time I spent learning how to play with that guitar," he said. "I'll never clean it."