TODAY Enable Fund charity bazaar raises over S$3,600 from items produced by the special needs community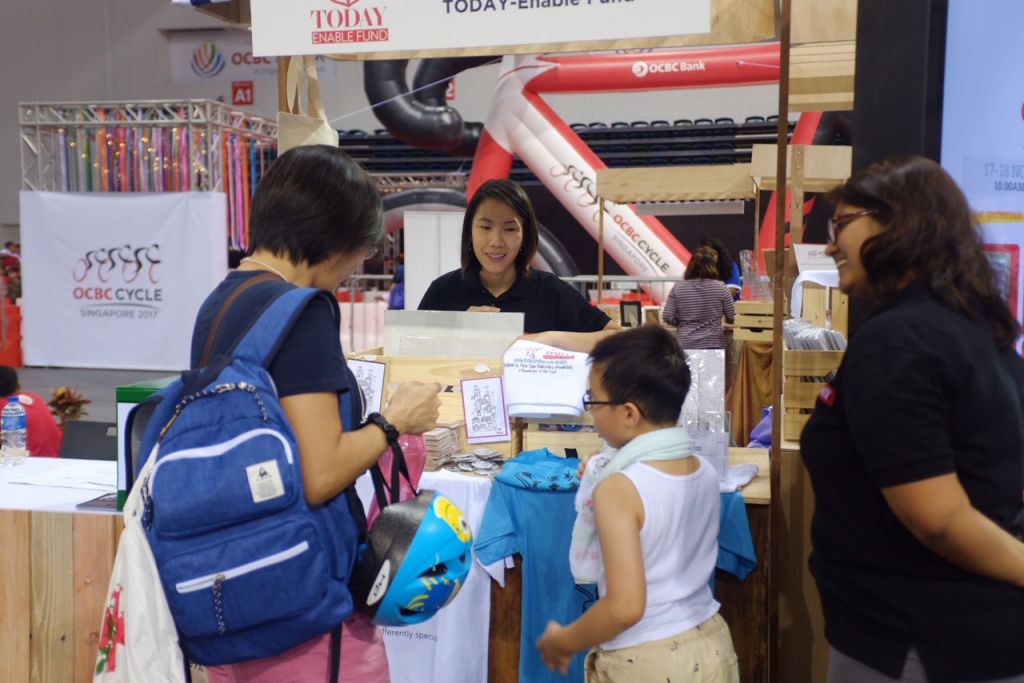 SINGAPORE — The TODAY Enable Fund (TEF) raised over S$3,600 at a two-day charity bazaar which ended on Saturday (Nov 18) through the sale of items produced by the special needs community.
Among the items sold were drawings by calligraphy artist and TEF beneficiary Wesley Seah, 50, who is visually impaired.
Coasters and magnets featuring reprints of two of his drawings — one depicting a morning glory flower and another a rabbit peering curiously at a mushroom — proved to be the most popular items, with over 250 of them sold at S$3 each.
The money will go towards helping those with disabilities fulfil their aspirations as well as transition-to-work and community integration programmes supported by the fund.
Among those who chipped in was teacher Nur Alim, 39, who said he was compelled to do so as he personally knew of friends and relatives with autism and therefore has "a greater appreciation" for their caregivers.
"Our contributions can help in some way in providing more opportunities for the special needs (kids), be it through finding jobs, or help them (shine) with their different abilities," he said.
The bazaar also featured other items produced by TEF's beneficiaries, include sketchbooks by Kenneth Lee, who was diagnosed with mild autism spectrum disorder but has a flair for drawing, as well as embroidered towels by Peter Yuen, a former teacher who had lost much of his hearing as well as his sight in his right eye. Also on sale were greeting cards, T-shirts and tote bags by other members of the special needs community.
Several thousand people visited the bazaar — which was part of the mass cycling event, OCBC Cycle — at the Singapore Sports Hub, OCBC Arena Hall 1, over both days.
Staff from TODAY, Mediacorp and SG Enable, the fund administrator and an agency dedicated to helping people with special needs, helped to raise awareness of TEF and to canvass for donations.
Pre-school relief teacher Jessie Yuen, 59, who bought a notebook and towel, said she was spurred to help as her friend, a wheelchair user, has muscular dystrophy.
The support given could go some way in helping to support individuals in the same situation, "some who may struggle or feel depressed", she said.
An accountant who wanted to be known as Mr Phua, 49, pointed out how his family would constantly go the extra mile to take up the training and therapy techniques to help his 14-year-old daughter, who has mild autism spectrum disorder.
"We do what whatever we can to help the community, through regular donations or through (supporting) initiatives like this, "said Mr Phua.
Mr Seah said he was heartened by the tremendous show of support.
He had earlier received about S$2,000 to take up Chinese ink painting courses at Lasalle College of the Arts in September.
Completely blind in his right eye and partially blind in his left eye after being diagnosed with advanced-stage glaucoma in 2002, he now works as a coordinator and project guide at Dialogue in the Dark Singapore, a teaching and learning facility which allows people to experience what it is like to be blind.
"It feels good knowing that my artwork is being appreciated," said Mr Seah, adding that he aspires to challenge people's mindsets to relook ordinary scenes in a different light through his art and not "take things for granted."
In the first edition of the two-day roadshow held at Orchard Gateway in July this year, more than S$1,700 were raised for the special needs community.
Mediacorp subsequently held a staff sale of the latest charity bazaar items to raise anotherS$4,400for TEF.