Their disability is no barrier to playing sports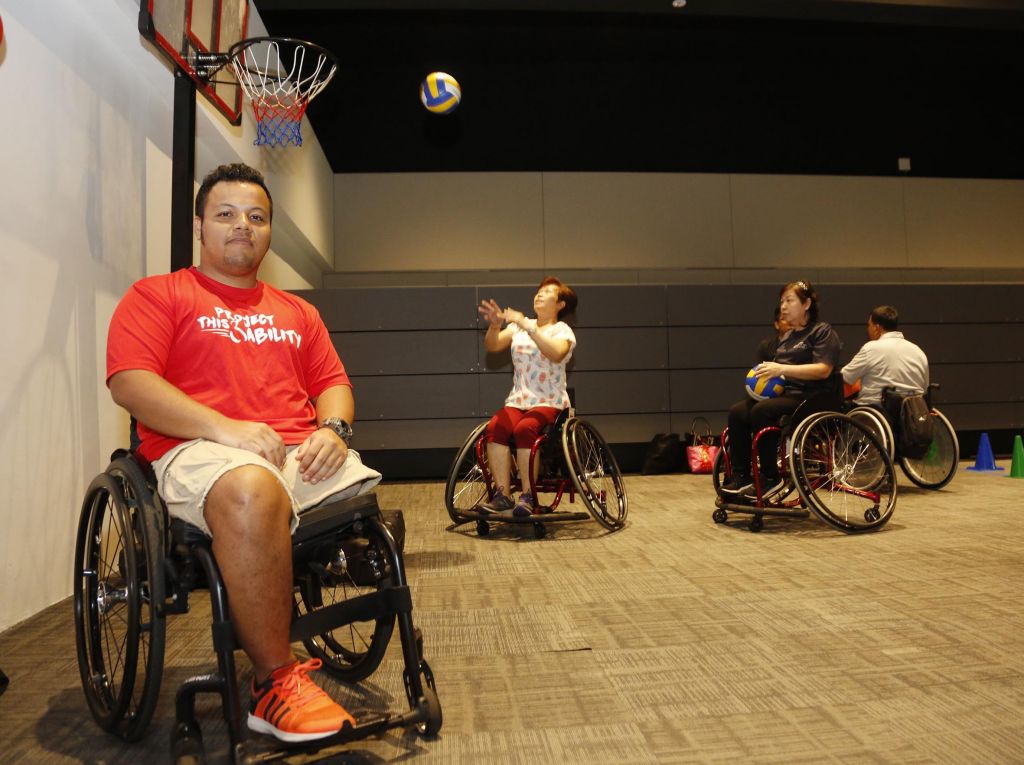 SINGAPORE — Mrs Jessie Ong was not into active sports after being paralysed on the left side of her body due to a stroke eight years ago. But on Saturday, after trying her hand at table tennis and boccia for the first time, the 43-year-old got inspired to become more active.
"People might think that disabled people cannot play sports. And even disabled people think they cannot play sports," said Mrs Ong. "But you need to tell yourself you can do it. You can always do it."
The artist now intends to play boccia with her friend at Bishan Community Centre. Mrs Ong, who turned up at the event with her husband and son, was one of over 230 people with disabilities who attended Project This Ability Para-sports Day at Enabling Village in Lengkok Bahru.
The event was the first community integration initiative supported by the TODAY Enable Fund, a charity fund established last December to provide people with disabilities with resources so that they have a chance to use their talents to achieve success. The fund, which has raised S$265,000 to date, will also support transition-to-work programmes at SG Enable and help some individuals achieve their aspirations.
At Saturday's event, visitors could try their hand at seven types of sports, including wheelchair basketball, goalball, cerebral palsy football and para badminton. The campaign, which aims to encourage people with disabilities to play sports as a means to meet new friends and lead a healthier and independent lifestyle, was part of the final-year project of a group of students from the Wee Kim Wee School of Communication and Information.
Ms Joey Chua, 23, who mooted the idea, was inspired by her cousin who was born with dwarfism. She recalled how her cousin, who is now 25 years old, would not take the train just to avoid the crowds and the stares that would greet him. Instead, he opted for the bus, although it meant a longer travelling time.
"When he was young, he didn't feel it. But as he grew older, he was more aware of how society views him. This became more apparent and I didn't like what I was seeing," said Ms Chua.
"We were all inspired by his interest in doing sports and want to help him and others like him lead an active lifestyle," said Ms Chua. "Hence, we decided to (organise this event) in hope of fostering a long-lasting sporting community of people with disabilities."
The power that sports has in uplifting lives is something that Mr Muhd Aidil Khalip can attest to. Once a lively and active person, the former despatch rider became a shadow of his former self after being run over by a tipper truck just a week away from his wedding in July 2013. He was 25 then.
His injuries were so severe that a part of his left leg had to be amputated. Although the dream wedding did take place a few months later, the unemployed man felt "useless", as his wife, who was then working as an office manager, had to shoulder the role of being the family's sole breadwinner. And he fretted over their long-term finances.
But there was one familiar avenue that he knew he could turn to, to build up his confidence, said Mr Aidil, who is now 29: "I thought that the only disability is your attitude. So, I told myself that I should try playing sports again."
Formerly an avid football player, he picked up air rifle at the urging of a fellow patient at one of his rehabilitation sessions, but his interest fizzled out as it was not very physically intensive.
In 2015, he found the sport he was looking for — wheelchair rugby.
Apart from playing indoors and having to sit in a specially-designed wheelchair, the sport is similar to how rugby is typically played. "You can tackle people, topple them over," said Mr Aidil, with a laugh.
Now, he would make the half-hour commute confidently by train every Friday from his home in Sembawang to Toa Payoh Sports Hall, where he would rough it out with nine other wheelchair-users.
He said those with disabilities might be apprehensive at first in taking up sports and meeting new people. But it is all about taking the first step.
"Soon, you will realise that they've become like family to you. We can relate to each other because of our disabilities and we try to inspire one another," said Mr Aidil.