Teens with special needs find voice, confidence through art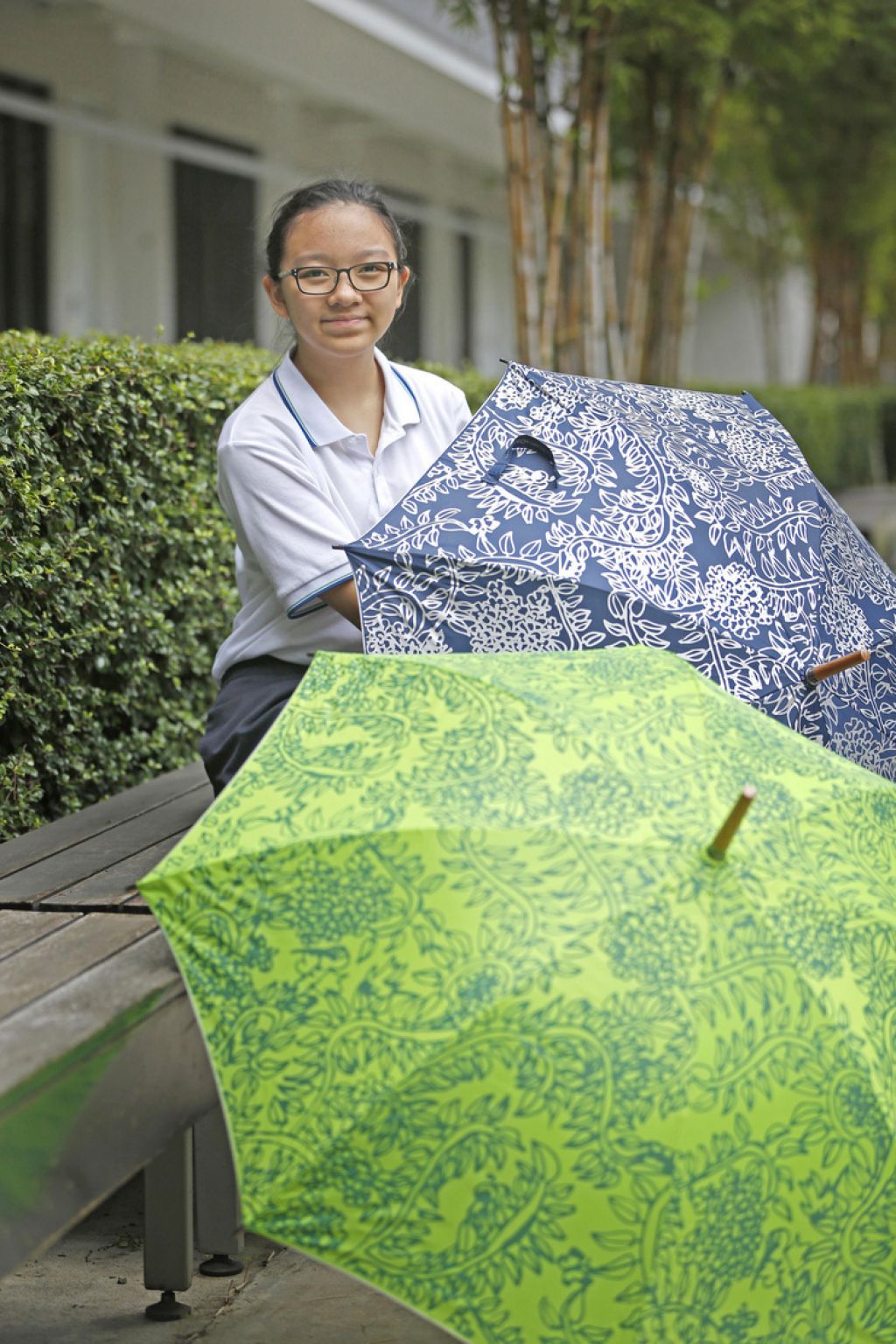 SINGAPORE — Thirteen-year-old Jolie Lim feels a pang every time she sees lizards, reviled by most people, portrayed as villains in cartoons and getting stomped on or chased by bigger creatures.
Growing up with autism, the Pathlight School student displays an affinity for these underdogs and features them as protagonists in her art. So lizards are the heroes in her comics, and last August, she dedicated a drawing of a mouse beating its larger, more powerful rivals — a cat and an eagle — to Joseph Schooling. It touched the Olympic gold medallist so much that he responded to her gift with an 11-second video, which thrilled her.
Through her art, the avid history and MRT buff said: "I want to spread the message that (our community) is not like what most people think, weird or strange, but that we are just different, (perhaps even more) interesting … (In fact), there's a quote that says God created autism to offset the number of boring people on earth."
Her whimsical sketch of Sir Stamford Raffles, a mosaic of smaller sketches of him in various poses, fetched S$2,500 at a charity auction on Tuesday. Her other artworks have also featured Sir Stamford in quirky variations, such as a lightsabre-wielding Jedi and a Kung Fu master.
Knowing that her work is helping to raise money for the TODAY Enable Fund, set up to aid the special-needs community, gives the Secondary One student fulfilment that she is able to do her part to help those without a voice.
Jolie's mother, Madam Fann Koh, however, said her daughter, who was diagnosed with autism at three, did not have an easy childhood. She had difficulty making friends, and was even hit and pinched by a kindergarten teacher who had lost her temper at her.
Drawing became an escape for the child to de-stress and express herself, said the 46-year-old housewife.
But she suffered a setback when an art enrichment teacher put her down for not being able to follow instructions, and taking the criticism to heart, Jolie stopped drawing for a year.
With encouragement from family and friends to not "lose faith in herself", she began drawing again.
Today, she is on Pathlight School's Artist Development Programme (ADP). Her drawings of various wildlife, such as a shark sun-tanning atop a van, and a grinning tortoise strapped to a parachute, have been featured on bags and T-shirts which are sold for the benefit of the Animal Concerns Research and Education Society (Singapore).
Possessing a profundity beyond her years, she describes her gift for art in providing her the wings to achieve "take-off".
Her fellow Pathlight and ADP schoolmate Khairul Asmi similarly finds confidence by expressing himself through art.
The 19-year-old's acrylic painting of a red tram in Prague fetched S$4,000 at Tuesday's charity auction.
With a keen eye for detail, Khairul gravitates towards architectural forms, and sketches iconic local landmarks such as the historic Capitol Theatre, the Helix Bridge and the Singapore Flyer through intricate and precise lines.
His housewife mother Madam Kartini Samuddin, 53, said her son, who was diagnosed with autism in 2004, at the age of six, initially struggled to talk.
With help from doctors and therapists, his condition improved. Now, he travels to and from his home in Jurong to school independently.
The shy teenager's favourite activity, however, is to retreat to his room to draw comic strips, inspired by his favourite cartoons such as Pokemon and Adventure Time. Seeing his creations make him happy, as it brings new ideas to life, he said.
In total, seven artworks by six artists with special needs, including Jolie and Khairul, raised about S$17,300 in Tuesday's auction, raising the total amount for the fund to S$265,000 to date.
Commenting on the positive outcomes of the charity auction, Madam Kartini said: "Hopefully, with these opportunities to showcase their art, they can make some income and be employed."
Calling for more public awareness about the difficulties that families of special-needs children go through, as well as for more acceptance despite their "difference", Mdm Koh, who has a nine-year daughter who is also autistic like Jolie, said: "As society learns more about them, acceptance can come with knowledge … All they want is for a chance to show people what they can do."
Not one to let others put her down, Jolie who aspires to become a comic artist and animator has this advice for budding artists: "Work hard to achieve your dreams, and don't let anyone tell you otherwise, or I'll give them a big Super Mario punch!"