Tiny steps after seven years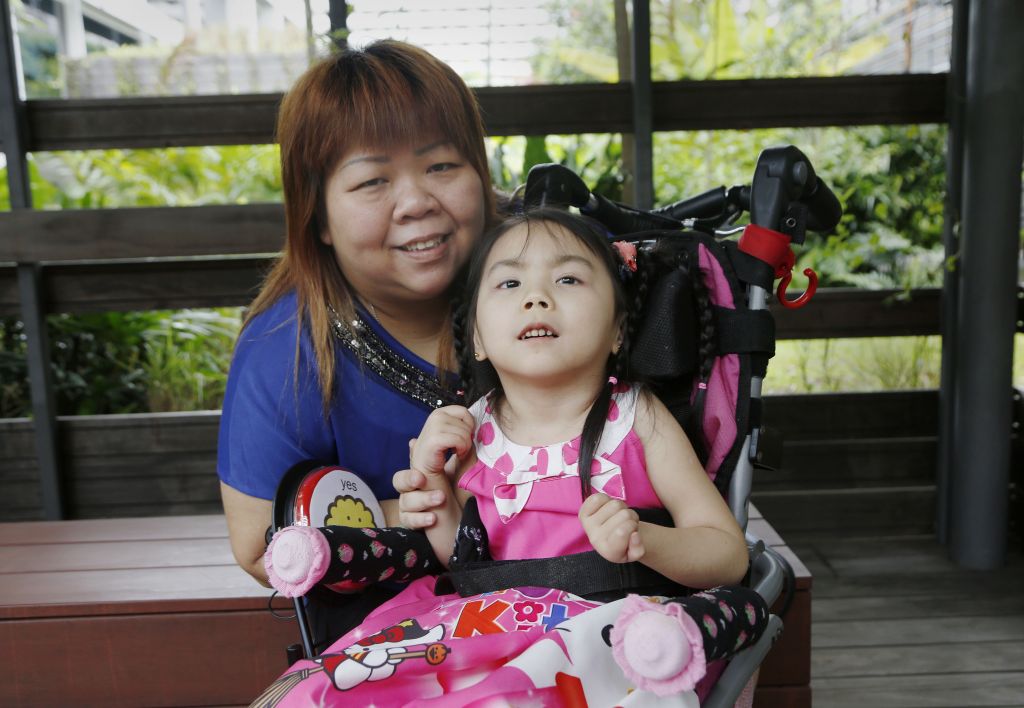 SINGAPORE — After seven years, Madam Joanne Lim may finally see her firstborn take her first steps. Fulfilling this dream, however, has come at a cost — S$800 a month has to be set aside to pay for Janelle's bimonthly private physiotherapy sessions, weekly acupuncture sessions and associated transport costs.
Janelle has dystonic cerebral palsy, a condition that affects her brain's ability to transmit information to her muscles. The first hint that all was not right came when she could not sit up without support when she turned one.
Even though the mother-of-three has depleted her savings, Mdm Lim refuses to give up on this "marathon" to get her daughter on her own two feet, not when substantial progress has finally been made.
The seven-year-old, who perks up at the mention of cake and ice cream can now hold her head up without support for 30 seconds, up from 10 seconds two years ago. And she can now use her specialised walker for 30 minutes, when 10 minutes was all she could manage just four months ago.
Even though Janelle has regular subsidised therapy sessions at KK Women's and Children's Hospital (KKH) to build her trunk and neck muscles, and to stop her muscles from deteriorating, Mdm Lim said the additional therapy has made a world of difference for her child where "a little bit of progress is very big progress".
Acupuncture, which Janelle started three years ago, helps to stimulate her head, neck and back muscles, facilitate movements in those areas, and helps her to eat and sleep better.
As for Janelle's private physiotherapy, which she has had for the past six years, Mdm Lim said: "They dare to work on other things … We are teaching her how to make steps. That's the biggest progress I'd seen from her."
Paying for these sessions do stretch the family's finances, as Mdm Lim also has two sons, Jayden, five, and Javier, one. It was only with the birth of Javier that even Janelle's physiotherapy at KKH became fully subsidised.
Said the 36-year-old law firm secretary: "I don't have much savings … We are a family with middle-range income, so (subsidy application for) a lot of things (like school and transport fees) needs to go through (stringent) means-testing."
Coming to terms with the fact that she has a special-needs child was a journey accompanied by lots of tears. For example, when Janelle was not ready to use the S$3,000 specialised walker to train her to walk at age four, Mdm Lim scaled down her expectations to hoping she "can just sit up".
But after sitting unused in the family's three-room flat for two years, the walker finally came into use recently, around the time Janelle's one-year-old brother started taking his first steps.
So Mdm Lim's greatest hope, for now, is to see Janelle walk, first with the walker, and hopefully in time to come, unassisted. In the meantime, Janelle has become the family's source of unity and strength. Mdm Lim said: "After work, when I go home, I am most happy to see her smile."